Doctor Strange in The Multiverse o Madness - The Loop
Play Sound
This article is about the episode of The Casagrandes. For the episode of The Loud House, see Funny Business.
"Bo Bo Business" is the thirty-fourth episode of the first season of The Casagrandes.
Plot
After a disagreement with Abuelo, Bobby goes to work for Mr. Hong to try out his new business ideas.
Synopsis
In the Casagrande mercado, Bobby is showing Hector a table he set up that allows customers to use free wi-fi, saying that this could boost business. However, Hector disapproves of this idea and shoos Maybelle and Vito away, who were using the table. Bobby tries to present some more of his ideas to improve the mercado, but Hector shoots down all of them, saying that he has been running the store his way for a very long time and wants to keep it that way. Feeling unappreciated, Bobby decides to take his ideas elsewhere. While moving his wi-fi table to another location, Bobby asks himself where dinosaurs are, and while he tries to look up the answer, Injae Hong, the owner of the Korean market nearby, is impressed that Bobby put a table outside his store. When Bobby says that this can help bring customers, Mr. Hong says that needs to hire someone with great ideas and a positive behavior, and Bobby immediately take the position.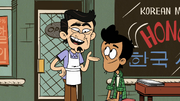 As Bobby works for Mr. Hong, letting the customers use free wi-fi and serving them Korean food, Hector is secretly revealed to be spying on Bobby, question why he would work for Mr. Hong. At nighttime, tensions between Bobby and Hector rise at dinner time, while the rest of the Casagrandes do nothing but look on with bewilderment. The next day, Carlota reveals to Hector that Bobby made a commercial for Mr. Hong's. Suddenly, a line forms at Mr. Hong's, and Bobby brags that all the store's success is because of his ideas, and leaves after insulting Hector by calling him a dinosaur. At Hong's, Mr. Hong reveals that because business is booming, he can finally take a day off, and plans on going to Great Lakes City Waterpark. After being handed the keys to the store, Bobby realizes he's been put in charge, and decides to unleash his biggest ideas.
The next day, as Hector tries to come up with a jingle for his now barren store, Maria arrives and says to Hector that Bobby only wants to make his mark in the mercado and should at least give his ideas a chance, but Hector is still adamant about running the store his way. At Hong's, Bobby reveals to the customers that while they shop, they can cuddle a bunny while doing so. The plan goes well with the customers, but when Vito arrives, asking if he can bring Big Tony and Little Sal with him, Bobby says that only bunnies are allowed. When Vito states that he plans to do his business elsewhere, Bobby relents and lets him bring the dogs in. However, this causes the other customers to ask if they can bring their own pets, and Bobby agrees. When Ronnie Anne questions if he's going too far, Bobby assures her that the customer is always right. Unfortunately, the animals have run rampant in the store, and Bobby is unsuccessful in calming them down. Ronnie Anne warns Hector that Bobby is in danger, but Hector decides to just watch him suffer. As Hector looks at Bobby being smothered by the bunnies, Hector is initially reluctant to help out, but unable to see him suffer anymore, he and Ronnie Anne proceed to pull him out and get to work on rounding up the bunnies to get them back in their cages. Suddenly, as Bobby and Hector celebrate capturing all the bunnies, Mr. Hong arrives and is horrified to see his store in ruins. Angry that Bobby caused trouble while he was away, Mr. Hong tells him that he is fired.
At the mercado, Bobby admits to Hector that his ideas are terrible, and Hector says that not every one of them guarantees success, but that shouldn't stop him from trying. After Hector admits that he missed Bobby while he was working for Mr. Hong, he apologizes for not taking Bobby seriously, and Bobby apologizes for calling him a dinosaur earlier. Rehired, Bobby and Hector get to work on making a commercial for the mercado with the help of the rest of the family, and it ends up being a success, as customers begin shopping there.
Cast
Carlos, Carlitos and Unnamed City Woman have no lines in the episode.
Songs
Physical distribution
This episode is available on the "The Complete First Season" DVD.
As the DVD was released too soon after the French dub of this episode aired, the DVD does not include this episode's French dub.
Trivia
This episode reveals that Bobby and Vito had no idea that dinosaurs went extinct.
It also reveals that Hector has been working at the mercado for forty years.
The title card music is the same as "Power Play with the Casagrandes".
Errors
When Bobby is dragging the table outside, his mouth doesn't move with his dialogue.
Videos