Carlos Casagrande is a supporting character in The Loud House, who first appeared in "The Loudest Mission: Relative Chaos".
Biography
Carlos is the son of Hector and Rosa Casagrande, and the brother of Maria Santiago. He studied a lot, and became a college professor. He is married to Frida Puga, and has four children with her, Carlota, Carlos Jr., Carl, and Carlitos. He is also Bobby and Ronnie Anne's maternal uncle.
Personality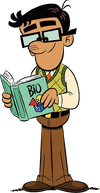 Carlos is a bibliophilic and absent-minded professor. He loves reading books so much, that he does this with other things at the same time. Reading books distracts him from what's happening around him, like he didn't react to Lalo eating the food he's carrying, or on Carlino getting injured by a watermelon.
It was later shown in Going Overboard that Carlos had a secret interest of skateboarding and it was revealed that he was very good at it. He first got into it in college when he found out it was the most efficient method of getting around campus. It was also revealed that this is how he fell in love with Frida.
Appearance
Carlos has short black hair, with some of the strands standing up, and also has thick, black eyebrows. He wears black glasses that have a square frame, a cream long sleeved shirt, a light green sweater, a red necktie, brown pants, a black belt with a yellow buckle, and dark brown shoes.
Trivia
Sources
Community content is available under
CC-BY-SA
unless otherwise noted.