Jurassic World: Dominion Dominates Fandom Wikis - The Loop
Play Sound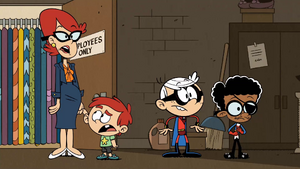 The Carmichael family is composed of Ms. Carmichael and her son.
Family members
Ms. Carmichael
Ms. Carmichael is Leni's boss at Reininger's. She also has a young son.
Biography
Ms. Carmichael first appeared in "Shop Girl" where she hired Leni after she had helped out some customers.
In "Crimes of Fashion", Ms. Carmichael fired Leni when she accused her of stealing several scarfs from her department. Lincoln and Clyde begin working to find the culprit as Ace Savvy and One-Eyed Jack with comical results when they think that either Gabby, Scoots, or Fiona was the culprit. After Lincoln and Clyde found out that her son did it, she re-hired Leni and apologized for accusing her of being the thief.
In "Leader of the Rack", Fiona talks about how demanding she's been lately, such as making her redo stocking sweaters because it was the wrong kind. Then she made Miguel change all the clothes on the mannequins and reminded him to iron the clothes before putting it on them. And then when Leni, Fiona, and Miguel were in the back room unloading boxes, she pops out of a box to remind them not to damage the boxes due to her wanting to reuse them to help her sister move. Afterwards, she calls a staff meeting and said that she was going to be at a conference for the weekend and made Leni temporary manager until she came back.
Appearance
She is a tall and slim woman. She has short red hair, thin eyebrows, and pink lipstick. She wears an orange tie-knot shirt, a blue jacket, along with a long body skirt, gold circular earrings, large black lens glasses, and white high heels.
Trivia
Gallery
Panoramas
Ms. Carmichael's son
He's got, a... cool hat, a red one. And his name is Rib... bon. Yeah, Ribbon the Frog.
This page contains information on a subject that does not yet have an official name. Once an official name is given to the subject or character, this template can be removed.
Ms. Carmichael's son is an unnamed minor character in The Loud House. He is the son of Ms. Carmichael. He made his first appearance in the episode "Crimes of Fashion".
Appearance
He has short red hair, red thick eyebrows, and one single buck tooth. He wears a light green shirt, with a yellow star design on it, dark black shorts, and blue shoes with white laces.
Gallery