Jurassic World: Dominion Dominates Fandom Wikis - The Loop
Play Sound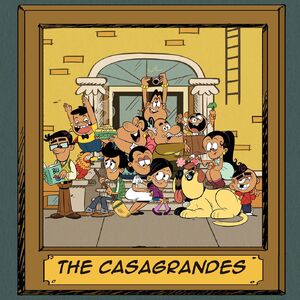 The Casagrande family, or the Casagrandes, are the extended family of Bobby and Ronnie Anne Santiago, specifically from their mother's side of the family ("Casagrande" is Maria's maiden name). They made their debut in the episode "The Loudest Mission: Relative Chaos".
The Casagrandes are the title characters of their eponymous series, where the series is focused on Ronnie Anne and Bobby adjusting to their new life in the city.

Family members
Rosa Casagrande
Hector Casagrande
Frida Puga Casagrande
Carlos Casagrande
Maria Santiago
Arturo Santiago
Carlota Casagrande
Carlos Jr. "CJ" Casagrande
Carlino Casagrande
Carlitos Casagrande
Bobby Santiago
Ronnie Anne Santiago
Lazaro
Lazaro is Rosa's deceased father who first appeared in a picture in "Croaked".
Lupe
Lupe is a minor character in The Casagrandes. She is the mother of Rosa Casagrande.
Appearance
She is an elderly Mexican woman of medium height with light grey hair tied in bun and thick black eyebows. She wears white sleeveless dress, short white poncho with edges in purple and light blue triangles, brown shoes, golden bracelets and golden earrings with round blue jewels. Despite being an elderly woman she is very strong to the point where she can defeat all her descendants wrestling.
Personality
Lupe is a Mexican traditionalist. She encourages her other family members to share on the tradition. When she discovered that her great-grandchildren were not raised as Mexicans, she was shocked to the point of getting a heart attack. However she changes her mind, realizing that Mexican tradition is about family more than speaking Spanish, wearing traditional outfits and eating spicy food.
Hector's Great-Great-Grandfather
Hector's Great-Great Grandfather is the unnamned relative of Hector.
He was first mentioned in "Señor Class", where it was revealed that he rode with Pancho Villa.
He was later seen in a picture in "Fool's Gold", where Hector remembers that he rode with Pancho Villa shortly after his grandsons uncover a message from the general.
Appearance
In the photo on Hector's family tree in "Señor Class", he appears to be a standard Mexican man, with a large nose and a broad, black mustache. He was shown wearing a red canvas jacket, a white undershirt, and a blue sombrero.
However, in the photo from "Fool's Gold", his mustache was brown instead of black. He is stouter and shorter than Pancho Villa. In this picture, his sombrero was brown instead of blue, and he was also seen wearing the same canvas jacket, along with brown chaps and black cowboy boots.
Hector's Grandfather

Hector's grandfather was an unnamed maternal relative of Hector.
He was first mentioned in "Señor Class", where it was revealed that he built a railroad in Mexico. According to Hector, he was Chinese.
Appearance
In the photo on Hector's family tree, he is shown to have had a bean-shaped head and ears with non-attached earlobes. He had black hair and a small stubble on his chin. He also had a dimple and bags under his eyes. He also had a large nose and almond-shaped eyes. He wore a red cap, a light green shirt, a brown jacket, and a purple scarf.
Dacho
Dacho is Rosa's cousin and Carlos and Maria's first cousin once removed.
He was first mentioned in "Mexican Makeover" where it was mentioned by Lupe that he and his family visited her from California and didn't embrace the family traditions.
Dacho's Children
Dacho's children are the unnamed children of Dacho.
Danny Puga
Lalo
Sergio
Paco
Paco is Lupe's pet parrot and Sergio's "cousin".
Appearance
Paco is a parrot with a blue body and a yellow head.
Biography
In episode "Mexican Makeover", it's revealed that he's Sergio's cousin and Mama Lupe's pet parrot.
He returns in "The Golden Curse".
Trivia
Family tree
Trivia
The surname "Casagrande" is Spanish for "big house".
Carlos and all of the children have names coming from the name "Carl".

Also like the Loud family, they have names that start with the same letter as the family name, and the youngest of the older half is named after the father. In addition, the mothers of both families have first names that rhyme with "pita."

The pets Lalo and Sergio are named after two famous Latin American cartoonists: Lalo Alcaraz (La Cucaracha), and Sergio Aragonés (MAD Magazine and Groo the Wanderer).
Season 4 has a five (formerly six) episode story arc featuring the Casagrandes.
At first, Lori and Lincoln were the only Louds to have met the Casagrandes.
In "Mexican Makeover", Lupe mentioned to Rosa that Dacho was her cousin. Later in the episode, Carlos mentioned that Dacho is his cousin indicating that Dacho may be first cousin to Rosa, and by extension, first cousin once removed to Maria and Carlos.
Videos
See also