Jurassic World: Dominion Dominates Fandom Wikis - The Loop
Play Sound
Christopher Mason Savino is an American animator, cartoonist, and writer. He is the creator of The Loud House and the creator of characters of the Casagrande family that soon developed into a show of its own, however he never worked on it due to being fired before the show was in production. He was born in Royal Oak, Michigan, which Royal Woods, the city The Loud House takes place in, is based on.
Biography
Savino got his start in animation as a layout artist on The Ren & Stimpy Show in 1991. He later worked as a character and prop designer on Nickelodeon's Rocko's Modern Life in 1993, and has since worked as a writer and director on such series as: Dexter's Laboratory, The Powerpuff Girls, Codename: Kids Next Door, Samurai Jack, My Life as a Teenage Robot, Foster's Home for Imaginary Friends, Kick Buttowski: Suburban Daredevil, and My Little Pony: Friendship Is Magic.
He has worked at Spümcø, Joe Murray Studio, Nickelodeon Animation Studios (formerly), Hanna-Barbera, Cartoon Network Studios, and Disney Television Animation, and has also worked on the live-action short called Bigfoot & Gray: On the Run, and a cancelled animated film called Adventures in Milk.
The Loud House
In 2013, Savino pitched The Loud House, a concept based on his own life experiences growing up in a large family (he's the ninth of ten children), as part of Nickelodeon's annual Animated Shorts Program. Besides his main job, he was also a member of Nickelodeon Animation Studio's Artist Collective, where veterans of the animation industry help train and nurture new talent that arrives at the studio.
Besides his usual duties, he would also draw all the title card art, and other still-frame pictures, which are drawn in a rougher style than the rest of the show. He also took it upon himself to direct every episode of the series (except on a few occasions and before his firing).
On October 19, 2017, Nickelodeon fired him over sexual misconduct allegations. As a result, he will no longer be involved with The Loud House.[1] Savino finally responded to the allegations on October 23, 2017, saying he is "deeply sorry" for what he has done.[2] On May 30, 2018, Savino was given a one-year suspension from The Animation Guild, IATSE Local 839.[3] "Tea Tale Heart" is the final episode Chris was credited as co-executive producer as Michael Rubiner takes over his role starting with "The Loudest Thanksgiving".
Non-directing credits
Shorts
Season 1
Season 3
Episodes not directed
Although Chris Savino was the head director for this series, there have been times where he wasn't the director of an episode. All of the episodes he didn't direct were instead directed by Kyle Marshall, or by a very small margin, someone else.
Credits
Trivia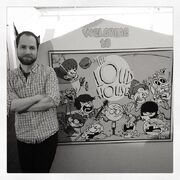 Like Lincoln, Savino comes from a large family—he's the ninth of ten children (five sons and five daughters).
Five of the Loud sisters were named after Savino's own sisters. They are Lori, Lisa, Lynn, Luan, and Lana.[4] All of their middle names are Marie, which is Lori and Lisa's middle name.[5]
Lucy and Lily were two of the names that Savino and his wife, Bethany, came up in case they had any daughters. They had three sons but no daughters - Vincent, Nick, and Chris Jr.
Leni was named after Lennie Small from the book Of Mice and Men.
Savino named Lincoln after the street he grew up on as a child, which was named E Lincoln Ave.[4]
According to Savino, his personal favorite episode of the series is "For Bros About to Rock".[6]

Also, according to Savino, Luna is his favorite character.

As a kid, Savino enjoyed watching Looney Tunes, Underdog, Popeye, and all of Jay Ward's shows like Rocky and Bullwinkle.[7]
Savino is the second Nickelodeon employee to have been publicly fired from Nickelodeon, the first being Ren & Stimpy creator John Kricfalusi, who was fired in 1992 due to "creative differences" with Nickelodeon over the banned Ren & Stimpy episode "Man's Best Friend", which featured a scene where Ren Hoek beats up George Liquor with an oar, as well as being someone who was infamously difficult to work with, and failed to meet the deadlines, and the third was Dan Schneider (who was known for Game Shakers, iCarly, Sam & Cat, Henry Danger, Victorious, The Amanda Show, and other shows he created from his studio, Schneider's Bakery), whom was fired from Nickelodeon on March 26th, 2018 for inappropriate behavior. No more details are known about the issue.

After being fired by Nickelodeon, he deactivated various social media accounts, which included his Instagram account, and he later stopped working for television animation companies after his firing from Nickelodeon in 2017, being a big reason why he never worked on anything outside of Nickelodeon ever again.
On October 23, 2017, Savino briefly opened a Facebook account to publicly post his apology regarding the allegations.
On May 30, 2018, Savino was suspended from the Animation Guild for a year over the allegations.
In September and October 2019, Savino spoke out in an interview and released audio from a church gathering, acknowledging and apologizing in both for his actions and behavior and the pain he had caused his accusers, family, friends, fans, and colleagues. He also stated he has become a born-again Christian, has written several novels (which he is releasing independently) as well as some cartoon pitches and pilot scripts, and is hoping for a second chance to return to the animation industry in the future.

In 2017, his wife, Bethany, divorced him after he was fired from the show because of the sexual allegations and inappropriate behavior towards the women employees at several industries. So then on after the divorce, Bethany stated on Instagram that she is now taking care of the three sons that both she and Chris have raised.
Sources