"Cooked!" is the forty-eighth episode of the third season, the one-hundred-forty-ninth episode, the seventh full-length episode, and the third season finale of The Loud House.
Plot
The kids promise to help Dad with the grand opening of his new restaurant by coming up with promotions, but their lack of teamwork and crazy promos lead to an ultimate nightmare in the kitchen for Dad.
Synopsis
Act I
Lincoln is putting up the finishing touches on an empty building. He explains to the viewers that today is the day that Lynn Sr. gets to open up his own restaurant: Lynn's Table. He explains that getting the restaurant wasn't easy.
The family had to find a building for sale, and the best they could find is a decrepit seafood restaurant that reeks.
Once it was bought, the family pitched in to fix it up. Lynn handled demolition, Lana fixed up the bathrooms, and Lisa became their personal health inspector.
Once the place was fixed up, Lynn Sr. needed to find people in need of work. A dinner theater actress and an irresponsible teen were interviewed, but were promptly rejected by the family. Eventually, Lynn hires Kotaro and the Burpin' Burger employee, Grant.
After finding their employees, Lynn Sr. wants his family to taste test the food and give detailed points about them, but the family, unable to resist the food's beauty, viciously eat it all without hesitation.
With the grand opening getting close, Lynn Sr. tells his family and co-workers that the only thing left to do is to promote the restaurant. The initial plan is to put up fliers around town, but Lori points out a typo on the poster: it says "GLAND OPENING" instead of "GRAND OPENING". With no time to fix the typo, Lincoln suggests that he and the sisters can do the promotions themselves, and Lynn Sr. accepts, saying that as long as they work together, the restaurant can succeed.
At the Loud House, the siblings hold a meeting, and each one of them propose their idea for a promotion. After presenting all of their ideas, they decide to have a vote to see whose promotion will be chosen. However, every one of the siblings gets one vote (with all of them admitting that they voted for themselves). Eventually, they get into an argument, and declare that they're bailing on the project. Lincoln, however, remains firm with his idea, and with Clyde's help, makes a commercial for Lynn's Table. It is broadcasted on TV thanks to the connections that Clyde's dads have with Patchy Drizzle. Lynn Sr. ends up loving the commercial, but realizes that the sisters are gone, and Lincoln says that they bailed out. Regardless, Lynn Sr. assures that nothing could possibly go wrong.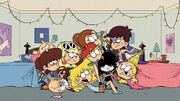 However, at the Loud House, it turns out that all of the sisters are venting that their idea for a promotion is great, and decide to use them, no matter if someone gets in the way.
Act II
With a few seconds remaining, Lynn Sr. anticipates the grand opening of his restaurant, and when the time arrives, Lynn Sr. opens the doors, and at that moment, a bus full of people arrive, and Lincoln escorts them to a table. At first, things go smoothly, but soon enough, the sisters arrive, telling Lynn Sr. about their ideas for promotions:
Lisa says that anyone who orders an entrée gets bottomless fries.
Luan says that when a birthday is held, the person whose birthday is today is sung a special birthday song, and gets a special dessert.
Lori reveals that she brought a photo booth to the restaurant, intending on drawing in a teen crowd.
Lana reveals that she allowed house pets into the restaurant after she made a menu specifically for them.
Lynn has invited her baseball team, and told her teammates that if their meal isn't at their table in 15 minutes or less, they get it for free.
Luna reveals that anyone who arrives gets a free performance from her, as well as saying that they do deliveries.
Leni hosts a bingo game for the elders, and says that anyone who gets a BINGO gets anything they want for free.
Eventually, Lynn Sr. becomes too overworked and stressed, and when the siblings barge in to tell Lynn Sr. to keep working to make all of the promises he made, Lynn Sr. tells them to quiet down, saying that he can't keep up with everyone's promotions. Suddenly, Leni unknowingly slams the door onto him, knocking him out cold. Realizing the chaos that they created, the kids admit that it's their fault. Lincoln says that he knows how to fix everything: he goes out to tell everyone that they can't fulfill all of the promises that they made, since they did it without their father's consent. Everyone's initially upset, but Lincoln promises that if they stay, they can get high-quality food for a low price, which they take a liking to. Working together, the family manages to appeal to everyone with the meals they make. Suddenly, Lucy arrives and says that she came up with the greatest way to promote the restaurant: by inviting Katherine Mulligan to the restaurant to interview Lynn Sr.. Unfortunately, Lynn Sr. is still knocked out, but Lincoln says he has another plan.
During the interview, the kids control Lynn Sr. like a makeshift puppet, and respond to Katherine's questions with body gestures. As a result, the interview is a success, and Katherine encourages her watchers to come over to the restaurant. Back at the Loud House, the whole family watches the interview on TV, and Lynn Sr. is happy to know that everything went smoothly. The kids apologize for making the opening a nightmare, but Lynn Sr. is glad that they acknowledged their mistakes, and as a thanks, he's letting them name a few of the dishes after themselves.
Cast
Harold, Howard, Pop-Pop, and Myrtle have no lines in this episode.
Trivia
Community content is available under
CC-BY-SA
unless otherwise noted.