Jurassic World: Dominion Dominates Fandom Wikis - The Loop
Play Sound
Great Lakes City, sometimes abbreviated to GLC, is a city that appears in The Loud House. It is also the main setting for its spin-off series The Casagrandes.[1]
Description
Great Lakes City is a large metropolis located somewhere near the Great Lakes of the Midwestern United States.[2] It is located over 200 miles away from Royal Woods, Michigan, in another state. It's 3 hours away from Royal Woods. Like many metropolises, it is a crossroads of cultures and peoples from around the world, and contains infrastructure such as an airport, taxis, buses, and a metro system called the Great Lakes Area Rapid Transit (GLART). It contains a number of institutions and sites of interest.
Homes
Casagrande Apartment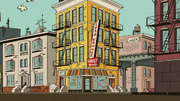 Laird's Mansion
Local
Chavez University
A local university where Carlos Casagrande teaches a variety of subjects. It is a typical American university, and one of two sites named after labor leader Cesar Chavez. Lori Loud had intended to study there with Bobby Santiago before gaining a scholarship to Fairway University.
Downtown
A typical downtown area with large Jumbotron advertising screens, observation towers, and parks.
Cesar Chavez Academy
This is an elementary school that Ronnie Anne and other characters attend. It is the second location named after Cesar Chavez.
Great Lakes Area Rapid Transit (GLART)
The metropolis's metro rail system. It consists of both underground and above-ground segments. Stanley Chang works as a conductor and driver, while various characters use it to get around the city.
Great Lakes City Library
A library that was seen in "Undivided Attention". Mavis works there as a librarian.
A zoo where to see a lot of animals. Becca Chang works there as a tour guide.
Businesses
Art Space Gallery
A gallery in Great Lakes City that displays works of art. Frida Puga Casagrande and Romeo work here.
Burger Blast
Burger Blast is a fast food restaurant that opened up in "Fast Feud" near the Casagrandes' apartment. It is run by Padma and Pierre.
A magic store that is run by the magician Greta the Great.
A new, large grocery store in the city that first appeared in "Store Wars with the Casagrandes". It's a serious competition for Casagrande Bodega as it opened up nearby it.
Hong's Korean Market
A Korean market that is run by Injae Hong that first appears in "Bo Bo Business". It is down the street from the Casagrande Mercado. Bobby once worked here following a promotion disagreement with Hector.
Margarita's Beauty
A beauty salon owned by Margarita that is near the Casagrandes' apartment.
Gallery: Margarita's Beauty/Gallery
Pete's Pets
A pet store owned by Pete that first appears in "Croaked".
Pizza Pig
A local pizza restaurant that was first seen in "No Show with the Casagrandes".
Unidentified pizza restaurant
A known pizza restaurant that is staffed by an unnamed pizza chef and an as-yet-unseen man named Gino.
Outside the City
Fairway University
Trivia
Sources
v - e -

d

The Loud House locations