I'll get the buckets.
This article is in need of some cleaning up. Some stuff might be inaccurate, needs to be expanded on, or just unnecessary.
Lend a hand to help out spruce up this article.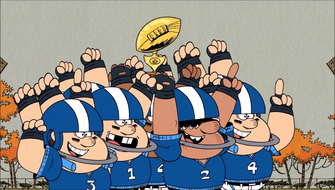 Hazeltucky is a town in Michigan, and one of Royal Woods' neighboring towns.
Description
It has a football team called the Hazeltucky Hockers, who is a rival team to The Royal Woods Roosters.
History
Hazeltucky was first seen in the episode "Linc or Swim". After getting kicked out of Huntington Oaks community pool, the Loud kids came here to use the pool, and like the last two pools they visited, they got kicked out. This time, they got kicked out because Lily defecated in the pool, causing the pool to be drained, and people in hazmat suits to scrub the pool to clean off Lily's excrement.
In "Snow Bored", it's mentioned in the news that its schools will be closed the following day due snowy weather.
In "No Such Luck", the Hazeltucky Lions are being played.
The water park was mentioned in "Back Out There" due to Lincoln's friends being concerned about him missing Ronnie Anne.
Their sports teams were beaten twice in "Driving Ambition". First when Lori beat them at golf at the beginning of the episode and again, when Lynn had a flashback to when she beat them in a basketball game.
Places of Hazeltucky
Hazeltucky Community pool
The Hazeltucky Community pool is a pool that appeared in the episode "Linc or Swim".
Hazeltucky Motel and Water Park
The Hazeltucky Motel and Water Park is a motel/water park that was mentioned in the episode "Back Out There".
Hazeltucky Party Outlet
The Hazeltucky Party Outlet is a outlet store that appered in the episode "No Spoilers" where Leni was getting a birthday card for her Mom that said: Happy Birthday From Your 11 Kids.
It also made an appearance in "Strife of the Party" where Lana and Lola went to get party supplies for their birthday party.
It is later mentioned in "Puns and Buns", when Luan says that she encountered Leni there while on delivery duty (which was actually a set-up from Benny).
Triva
According to Leni, Hazeltucky Party Outlet is three bus rides away from the Loud House.
World's largest frying pan
The world's largest frying pan is a monument in Hazeltucky. It appeared in "Save Royal Woods!", where Joyce Crandall showed it in her presentation to explain why she thought that the town deserved to be preserved.
Known citizens
Hazmat Guys
The Hazeltucky Lions (Baseball Team)
Appearances
Trivia
v - e -

d

The Loud House locations