Jurassic World: Dominion Dominates Fandom Wikis - The Loop
Play Sound
Howard McBride is a supporting character in The Loud House.
Personality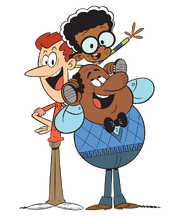 Howard is cautious and overly dramatic. He is more emotional and high-strung than his husband. Harold frequently needs to get Howard to relax when he gets overemotional while watching Clyde grow up, or when he feels overwhelmed by Lincoln's family. Howard also tends to worry about Clyde being safe at all times.
Both Howard and Harold like to visit movie theaters, restaurants, and coffee shops together. They own a car that is spacious enough to fit both dads and all of the Loud children at once. One of Harold's nicknames for Howard is "Howie". Howard almost always calls Harold by his pet name, "Hare-Bear". Throughout the entire show, Howard has only ever called Harold by his real name when he is overwhelmed with emotion and needs Harold's help.
Howard can play the saxophone and knows how to sew clothes. He always has a sewing needle and a thread in his pocket. He is a cat lover just like Clyde. He is normally in charge of preparing and serving dinner at the McBride house. He is a skilled chef, especially when it comes to preparing one of Clyde's favorite foods, Swiss chard frittata.
Biography
Season 1
Howard is one of Clyde's dads, and he is seen, or mentioned in ten episodes of the first season. He is first mentioned in "A Tale of Two Tables", in which Clyde does taxes with his parents, while Lincoln talks to him.
In "Overnight Success", Howard alongside Harold make their first on-screen appearance. In the episode, he gives Clyde everything he needs for a sleepover with Lincoln.
Howard is later mentioned in "Hand-Me-Downer", in which Clyde reveals that his dads own a tandem bicycle and enjoy shopping for antiques.
In "The Green House", Clyde tells Mrs. Johnson that his parents use solar panels and try not to burn any fossil fuels.
Howard and Harold are prominently featured in the episode "Attention Deficit". In this episode, it is revealed that Howard was part of a band in college.
In "Lincoln Loud: Girl Guru", Clyde says that Howard and Harold call him a great hugger and always compliment his "million-dollar" smile.
In "Roughin' It", Howard and Harold stay at a bed-and-breakfast while Clyde camps outside with Lincoln. They do not allow Clyde to leave their sightline, but when they fall asleep, the boys inadvertently fall into a river and end up in a cave. Clyde tells Lincoln that he really misses his dads, so they find their way back to Howard and Harold.
In "The Waiting Game", Howard and Harold make Clyde wear a hazmat suit to Chandler's sewage party.
After Clyde falls off the Tunnel of Love ride in "A Fair to Remember", the carnival manager asks "the parents of a soggy boy" (Clyde) to come pick him up. Howard and Harold do not make a physical appearance, but this line indirectly references them.
In "April Fools Rules", Clyde tells Lincoln that he and his dads have to keep their cat Cleopawtra in a crate when she gets "feisty".
Howard and Harold's tandem bicycle appears in "Butterfly Effect" without them. Their house and chairs can be seen in "One Flu Over the Loud House".
Season 2
Howard and Harold appear in two of the first three episodes in the second season. They are present in the holiday special "11 Louds a Leapin'" where they are celebrating Christmas with the Loud family and Mr. Grouse.
They are the focus of the episode "Baby Steps", in which Clyde thinks his dads are having another baby and Lincoln helps him learn how to be a good big brother. However, it is all a misunderstanding and they were actually getting a new kitten for Clyde. Howard is the one who names her Nepurrtiti. Near the end of the episode, he and Harold go out for a bit. Howard tells Clyde that he and Harold will be back in an hour, and asks if he's alright taking care of the kittens. Clyde reassures him and tells him he has the 3 C's: Caring, Confidence and Cat Treats. But, of course; the cats scratch Clyde. A scratched up Clyde tells both Harold and Howard: "Whoops, guess I should've spelled that."
In "The Whole Picture", it is revealed that Howard and Harold back up all of Clyde's childhood photos with their online cloud storage. Clyde also mentions that he and his dads hold acting sessions every Friday.
In "Kick the Bucket List", Howard and Harold surprise Clyde by going on an eight-day vacation in Hawaii. They go on a plane, visit a volcano, go sailing, and swim in the ocean. Throughout the entire trip, Clyde tries to trim down the list of activities he planned to do with Lincoln over spring break. This leaves him distracted, so Howard and Harold have to continually save him from danger he is unaware of: they pull him away from lava when visiting the volcano, catch him when he nearly falls overboard on their sailing trip, and take a fish off of his head when they go swimming.
In "ARGGH! You for Real?", he and Harold become worried about Clyde throwing all his stuff and call Lincoln to help them. As usual, the emotional Howard worries a lot and becomes sad when he feels that Clyde no longer believes in fantasy stories, considering them all meaningless frottles. He can not stand the idea of seeing his son Clyde growing up too fast, not feeling like a little kid anymore.
In "Health Kicked", he and Harold compete in the Royal Woods Ultra Extreme Ninja Competition. They are also seen pulling their car with ropes.
In "Yes Man", he is seen in a photo when Lincoln talks to Clyde, Liam, and Zach on his laptop.
In "Tricked!", he is mentioned by Clyde, that if Clyde brings candy home, his dads will lock up the candy, and only bring out one small piece at a time.
In "Snow Way Down", Lincoln discovers how overprotective Harold and Howard are. It's also revealed in this episode that Howard does not go to the gym when he says he does, he goes to the doughnut shop.
Season 3
In "What Wood Lincoln Do?", he is seen crying in a flashback when a relatively weak Clyde is being lifted into the ambulance after he attempted to blow up a balloon.
In "Antiqued Off", when Lincoln, Clyde, and Zach Zach impresses Howard by revealing some of his newfound knowledge on antiques on the silverware and tableware being used.
In "Cooked!", he is shown at the opening of Lynn's Table with his husband and son.
Season 4
In "Rocket Men", he agrees to send Clyde to Space Camp for a week. When Clyde calls his parents they tell feeling sorry for their kids, encourage them that they stay a little bit longer, saying that while they may not like it at first, they'll eventually find something they'll enjoy. When they come to pick up Clyde Lincoln and Clyde explain that they gave the Space Cadet Experience a chance, and say that while they didn't enjoy it at first, they actually like it now.
Towards the of "Last Loud on Earth", the zombies that Lincoln and Clyde fought were actually their fathers with them having the injuries to prove.
In "Stall Monitor", Howard provides questions about "What's the UV rating on these windows?" and assumes that Agnes Johnson the students with sunblock. He also questions about chalk dust levels.
In "Exchange of Heart", when Clyde grows tired of Harold and Howard overprotectiveness, he invites an exchange student named Tiago in their house.
In "Purrfect Gig", Harold and his husband Howard hire Luna to look after their beloved cats during their absence, provided that she does not bring more than one person into the house.
Season 5
In "A Flipmas Carol", he purchases a set of inflatables at full price by telling them their coupon expired a few seconds ago.
In "No Bus No Fuss", Howard wants to ensure that his passengers are perfectly safe by enforcing strict safety rules in his car such as wearing protective pillows and helmets or going at very slow speeds. At that point, the boys complain about the excessive security imposed.
In "Resident Upheaval", Howard, Harold and their son Clyde go together to visit the "Sunset Canyon" retirement home to get to know him better, so that they can give Nana Gayle a suitable place.
In "Flying Solo", Howard and Harold go to see Clyde's first musical performance, along with aunts Pat and Hoda.
In "Dad Reputation", Howard records a video of his husband playing in the band.
In "Fam Scam", Lola pretends that Harold and Howard are her fathers.
Season 6
In "Cat-astrophe", the McBrides hold a graduation party for their cats, only to immediately scramble to get a birthday party ready for Nana Gayle. Howard goes to Hazeltucky Party Outlet to retrieve some items, but finds that Cheryl and Meryl have taken all the merchandise for their Southern Hospitality marathon.
In "Prize Fighter", Howard is revealed to be volunteering at Sunset Canyon, and is also a judge for the Mini McFiggle Award alongside Dana Dufresne and Cheryl.
Other
Howard also appears in the "Turn It Up Loud" music video alongside Luna. He serves dinner at the beginning of the Thanksgiving short "Dinner Party", although only his arms are shown. He and Harold are mentioned in the compilation short "The Many Sides of Clyde McBride." In a 2016 live stream from the Nickelodeon Animation Studio Facebook page, Miguel Puga drew the Dads. They are also drawn by Chris Savino in a live stream from February 2017. He and Harold were mentioned by Lincoln in an animated Facebook Live video in October 2017, when he talks to Clyde and says "Say hi to your dads for me!"
Appearance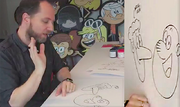 Howard has buck teeth, reddish hair, a long pointy nose, and a long oval-shaped head. He also has bags around his eyes, probably from worrying too much. He wears brown slacks, white sneakers, and a red collared shirt with rolled-up sleeves and four buttons. In "Kick the Bucket List", he is shown to wear a blue sleep mask.
In a live stream from Nickelodeon on February 2017, Chris Savino drew the Dads' original designs. Howard was shown with curly hair and otherwise identical features.

Trivia
The colors and styles of clothing that the Loud and McBride parents wear correspond with each other. Howard and Rita both wear red button-up shirts with collars and rolled-up sleeves.
Howard has been featured in posts on the official show Twitter[1] and the official show Instagram.[2] The Facebook page for Nickelodeon Animation Studio has also featured him.
Whenever the Loud House social media accounts refer to Howard and Harold as Clyde's dads, "Dads" is capitalized as a proper noun.
Either Howard or Harold must have been a medical professional at some point, or at least gone through medical school. It is mentioned that they give Lincoln and Clyde their vaccinations in "Attention Deficit", so they must have easy access to medical equipment, and the license to administer that kind of medication.
In "11 Louds a Leapin'", "Snow Way Down", "Last Loud on Earth" and "A Flipmas Carol", on a picture in "Animal House", and in certain scenes in "Runaway McBride", Howard's hair is light brown instead of red. It is now evident that Howard dyed his hair, but it is not yet known what his original color is. It is still not clear whether he was red or brown.
Harold very rarely calls Howard by his full first name; he almost always calls him "Howie" instead. "ARGGH! You for Real?" is the first time Harold refers to Howard by his full name.
His cell phone ringtone is a chorus singing "Hallelujah!"
His name means "high guardian" or "brave heart".[3]
According to the description from the "Love Out Loud" comic, he and his husband Harold have been together as a couple for 20 years (8 years before Clyde was born).
He has hired somebody to repair ice sculptures.[4]
"Prize Fighter" is the first and so far the only episode where he appears without Harold and Clyde.
Clip
Sources