'The Loud House' Profile: Lana Loud
| | | |
| --- | --- | --- |
| " | Some jobs require you to get your hands dirty. | " |
Lana L. Loud is a main character in The Loud House.
Biography
At six years old, Lana is the fourth youngest child of the Loud family, and the second-oldest of Lincoln's five younger sisters. She is also Lola's twin sister (older by two minutes), with whom she attends the first grade at Royal Woods Elementary School.
Personality
Lana is a tomboy, contrasting with her twin's more girly personality. She loves to play in mud and enjoys getting her hands dirty. Her pleasures are found in filth of all kinds, and anything unhygienic, from frogs to digging in the trash for chewed gum to doing business outdoors. Despite her tomboyishness and gross habits, she is a decent enough person and is loving towards her family. She also helps her family with more of the household jobs like unclogging the toilet and cleaning the animals out.
She is a junior expert plumber, as seen in "Sleuth or Consequences", where she uses "Big Bertha" (a plunger) to unclog the toilet (although she also aims to make a poop big enough to clog the toilet herself). Other example being in "Suite and Sour" where she fixed a shower. She also possesses extensive knowledge in automotive repair and machinery, and sometimes can be seen fixing Lola's car or even Vanzilla.
In "Snow Way Out", she is shown to be stingy when she refused to give the coupon for Flip, but later she got over it at the end.
Nick Description
"

"Lana Loud is the resident Ms. Fix-It, and is always ready to lend a hand, no matter how dirty the job. Need your toilet unclogged? Snake fed? No job is too tough, or too gross to take on. All she asks in return is a little A-B-C gum, or a handful of dog food."

"
—Nickelodeon, 2016
Appearance
Lana is nearly identical in her physical appearance to Lola. She has blonde hair, with two downward pigtails tied down with red scrunchies, and is missing her front teeth, like her twin does.
She wears a red baseball cap backwards with a small square hole, white sneakers with blue stripes, and a murky green t-shirt under dark blue overalls. Her nightwear just consists of a murky green shirt. Her swimsuit is a blue one piece, which looks like overalls. Her snow attire consists of a yellow coat with matching pants, blue boots with matching gloves, completed with green earmuffs.
Hat
Lana's hat is a red baseball cap that she wears in every episode she appears in. Lana never wears her hat forwards, she always wears it backwards, and Lana is also shown to sleep with her hat on. The only time where Lana did something that involved her hat was when she wanted Lincoln to sign it in "The Loudest Yard".
The only instances where Lana doesn't wear her hat for a majority of the time are in the episodes "In Tents Debate", "Toads and Tiaras", and "The Whole Picture".
Alternate Versions
Leif Loud
Main article: Genderbent Royal Woods
In an alternate universe where the sisters are boys, Lana is a boy named Leif. Similar to Lana, Leif is obsessed with mud, dirt, and animals. Unlike Lana, who is missing her front teeth, Leif is missing his canines.
However, he is much more abrasive than Lana, being mean towards his twin brother Lexx (Lola). He is also very harsh to Lincoln and plays keep-away with the time watch that he needs to go home.
However, in the alternate universe where it's one girl and ten boys (instead of one boy and ten girls), Leif's shown to be very caring and protective towards Linka Loud, Lincoln's female counterpart similar to Lana with Lincoln.
Leif eventually ceases to exist, as the entire adventure was all just a dream.
Royal Flush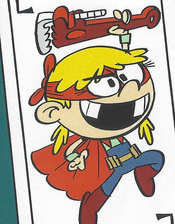 In the minicomic Deuces Wild!, Lana interprets the superheroine called Royal Flush, who is also one of Ace Savvy's sidekicks. She uses a pipe wrench to open up a fire hydrant. In the comic, she is summoned by Savvy (played by Lincoln) alongside the rest of Savvy's deck (played by the rest of her sisters) to help him and One-Eyed Jack (played by Clyde) to defeat the gas monster. After they defeat it, they prepared to fight against a garbage monster.

She appears in Lincoln and Clyde's comic in "Pulp Friction", where she uses her wrench to loosen the bolts on the shark tank, which prevents Wild Card Willy from escaping.
Beulah
Main article: The Loud Rabbits#Beulah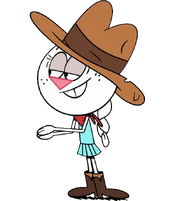 Beulah might be the rabbit version of Lana.
Absences
Main article: Character appearances
Season 1
Season 2
Season 3
Season 4
Trivia
Clip
Sources
Community content is available under
CC-BY-SA
unless otherwise noted.