Liam is a recurring character in The Loud House. He is one of Lincoln's classmates, and they appear to be friends. He looks to be proficient playing basketball.
His first appearance was in "Overnight Success", as one of the kids Lincoln invited to his sleepover, after Lincoln had a falling out with Clyde. Since then, he has made other appearances in other episodes.
Personality
So far, not much known is about him, other than that he is one of Lincoln's best friends. He likes basketball and rock music. He seems to be from the countryside given his accent and during "Back Out There" where he mentions doing stereotypical agricultural activities such as milking cows and that donkey poo was hard to get out. He also doesn't seem to be able to understand certain metaphorical phrases, such as Rocky's dad complimenting them on their appearance and telling them they'd need to fight the ladies off with a stick, causing him to sadly remark that he had forgotten his stick.
Appearance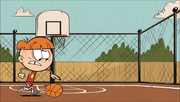 Liam is as tall as Lincoln and has freckles on his cheeks. He has orange hair styled into a bowl cut, and two buck teeth.
His regular clothing attire consists of a light and dark green striped t-shirt, brown shorts, white sneakers with green stripes, and white socks with red and blue stripes.
In some occasions, he wears a red basketball outfit.
Appearances
Season 1
Season 2
Season 3
Trivia