She-Hulk Trailer Dropped - The Loop
Play Sound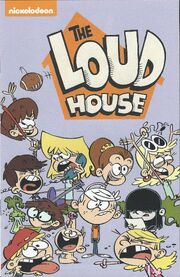 Lincoln Loud's ABCs of Getting the Last Slice is a mini-comic based on The Loud House. It was given out for free exclusively at San Diego Comic-Con 2015 before being reprinted in the first issue of Nickelodeon Pandemonium and Live Life Loud!.
The story was written by Chris Savino, drawn by Savino and Jordan Rosato, and colored by Amanda Rynda.
Synopsis
Lincoln is reading some manga in his room when Mom calls him and his sisters down for dinner: pizza! As Lincoln explains, with 11 kids living in the house and 12 slices in the pie, there's always the problem of who gets the one remaining slice. Therefore, Lincoln tells of his "ABCs of Getting the Last Slice".
Argue: Lincoln and his sisters argue over who has the right to eat the last slice.
Battle: during this sequence, the art style changes to a manga-esque style as Lincoln and his sisters fight for the slice. The fighting ceases when we get to the final letter...
Coupons: it turns out that their parents used a coupon to get a second pizza for free!
As the Loud kids zip away for more pizza, the slice they were fighting over drops onto the floor. The dog notices the discarded slice, but receives glares from the cat, bird and hamster, and a new battle begins between them.
Trivia
The comic was adapted into an Internet exclusive short called "Slice of Life", which was released on Nick.com on April 15, 2016.
The siblings' titles in the intro

Lincoln - The Hero
Lori - The Oldest
Leni - The Beauty
Luna - The Rock Star
Luan - The Jokester
Lynn - The Sport
Lucy - The Emo
Lana & Lola - The Twins
Lisa - The Genius
Lily - The Poop Machine
References
Yu-Gi-Oh! - The "Triangle of Power" mentioned at the beginning of the manga that Lincoln is reading could be a reference to the Triangle Power card from this trading card game.
Gallery