| | | |
| --- | --- | --- |
| " | Oh, being the residence genius is both a blessing and a curse, though I believe in neither. | " |
Lisa Loud is a main character in The Loud House.
Biography
At 4 years old, Lisa is the second-youngest child of the Loud family, and the second-youngest of Lincoln's five younger sisters. She is often seen working on complex experiments, equations, and formulas. Lisa attends kindergarten at Royal Woods Elementary School.
Early life
Before the beginning of the series, Lisa, despite her very young age, is a Junior Nobel Prize recipient. Though she is still in kindergarten, she is exceedingly smarter than the other kids her age and is shown to be capable of moving up at least six grades.
The comic "It's Just a Phase" reveals that she started doing experiments at around age one, but it was believed by her parents to be "just a phase". The comic also reveals that back then, her outfit consisted of her glasses, a green T-shirt, a white lab coat, a diaper, and pink shoes.
Personality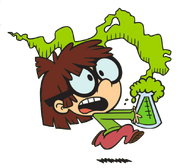 Though the second-youngest of the Louds, Lisa is a child prodigy, so she's the smartest kid in the bunch. Because of this, she often tends to be egocentric, boorish, condescending, and sarcastic with other people. She speaks with a lateral lisp, and usually has a stoic frown, though she does smile from time to time.
She is not as excited as her siblings, although sometimes she becomes in that state when something really good happens, like when she and the other sisters discover about Lincoln's romantic situation in "Heavy Meddle". She states this is because she does not partake in mundane human emotions as stated in "Heavy Meddle". She was also shown to have fallen for Hugh like all of her other sisters, and showed a more immature side to her, at one point having Hugh show off his six pack under the lie that she was teaching Lola human anatomy with him as an example. She also became somewhat irrational, claiming she would marry Hugh, and have children with him, despite the obvious age difference, and following him around like her other sisters. She also does not believe in superstition, fortune telling, blessings or curses as she is a realist and believes only in science as stated in "Raw Deal" and "Study Muffin". However, she isn't completly close-minded, as she believes in aliens, as she claimed in "Friend or Faux?", and she accepts the fact that her sister, Luna, is dating a girl, as seen in the comic "Sam's Pick". Nonetheless, she likes to be with her siblings and have fun with them, even if she doesn't express it.
In many episodes, she can be seen working on strange experiments. In "Left in the Dark", she creates an Oreo shaped cookie called "Gloweos" with the infused DNA of a jellyfish, and if someone ate it, all of his/her body will glow. One of her favorite hobbies is resolving very difficult math problems. She also likes to study the poop and bathroom habits of her siblings, something they all find gross and annoying.
As seen in "Overnight Success", Lisa not only likes to do experiment on her siblings, but she also likes to do them with people outside of her family.
Though easily the most mature of her siblings, she can also be quite mischievous and sneaky. For the most part her pranks are hidden in unassuming objects; such as acne cream, sunscreen, mouthwash, etc, with results like turning skin blue, mild sunburns, and hot-pepper induced fever, respectively. Lisa is also completely willing to join in the madness caused by her siblings, whether it be disputes over money, the "sweet spot", or just playing along. This proves that while Lisa is a genius, she's still a kid and acts her age.
Contrasting most of her family, Lisa is very honest and blunt about what is on her mind. Lisa's brutal honesty isn't so much out of a sense of morality, but because she doesn't want wasted brain space by making up a lie. However, in "House of Lies", she is shown to be horrified by the number of lies in her house, and even tries to remedy it, implying that her honesty is at least partially due to a sense of morality. As seen in "Heavy Meddle", her honesty makes her incapable of keeping a secret. Like Lincoln she's very individual in contrast to rest of the sisters as seen in "It's a Loud, Loud, Loud, Loud, House".
Lisa, like her polar opposite Leni, is ironically very scatterbrained. She can frequently forget crucial ingredients to her various experiments, which can lead to devastating, though hilarious, outcomes. She also frequently forgets to look up while reading while walking, much to her embarrassment, and tends to misplace her vials, test tubes, and chemicals.
As seen in "Party Down" Lisa appears to have a fun side, as she gets a sugar high from having too much chocolate from a chocolate fountain. This proves that Lisa isn't a complete no nonsense person and can loosen up and act her age.
Nick Description
"

"Lisa Loud is smarter than the rest of her siblings combined. She spends most of her time in her lab setting off mysterious explosions, but she's always willing to help out with homework, or explain the structural flaws in someone's pillow fort. She loves her test subjects siblings!"

"
—Nickelodeon, 2016
Appearance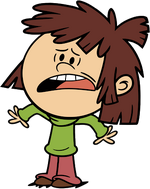 Lisa has short shaggy brown hair (which is a wig), and wears large glasses to help her see. She wears a green turtleneck sweater, pink pants, and brown shoes with no socks, all of which droop down to illustrate her stoic demeanor.
Her sleepwear includes a lime green nightshirt with matching pants. Her swimwear consists of blue goggles, and a green one-piece swimsuit with a horizontal pink line in the middle.
"Potty Mouth" reveals that she is actually bald and toothless due to her experiments. Because of this, she wears a wig and dentures. In addition, she has an extra toe on her right foot.
Glasses
Lisa's glasses are black-framed, with two circular lenses that are a translucent blue color, and only her pupils can be seen through them when she is wearing them. As of "Making the Grade", she has surgically corrected her eyes, and no longer needs them to see. However, she still wears them for unknown reasons, possibly a subconscious reaction as she's worn them her entire life.
Alternate versions and alter-egos
Levi Loud
Main article: Genderbent Royal Woods
In an alternate universe where the sisters are boys, Lisa is a boy named Levi. Like Lisa, Levi is a child prodigy, and speaks using really big words, as shown when he told his two older "cro-magnons" Leif and Lexx (Lana and Lola) to diminish their cacophony, so that their youngest sibling can suspend consciousness. But, being the simpletons that they are; Leif and Lexx had no idea what Levi was saying. So, they just end up telling Levi to "speak English." To make it easier for Leif and Lexx to understand, he said: "Shut your pie-holes so Leon can nap!"
Unlike Lisa however, Levi is shown to be harsh and uncaring towards Lincoln, as shown when the boys mock him after Luke (Luna) uses him to clean the bathroom, laughing at him when Leon bit his thumb when he got a boo boo, and teasing him over going a date with Ronnie Anne. He is also harsh towards Dad, as the boys dog-pile him whenever they see him. He also plays keep-away with the time watch his female counterpart made to send Lincoln home.
In another alternate universe where everyone is the opposite gender, and Lincoln is a girl, Levi is shown to be caring and honest with Lincoln, like Lisa.
Levi eventually ceases to exist, when it is revealed Lincoln's whole adventure with the boys was just a really strange dream he was having.
Card Counter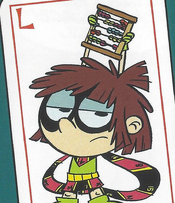 In the minicomic Deuces Wild!, Lisa interprets the superheroine called Card Counter, who is also one of Ace Savvy's sidekicks. She uses a special container to trap creatures like the gas monster. In the comic, she is summoned by Savvy (played by Lincoln) alongside the rest of Savvy's deck (played by the rest of her sisters) to help him and One-Eyed Jack (played by Clyde) to defeat the gas monster. After they defeat it, they prepared to fight against a garbage monster.
Beatrice
Main article: The Loud Rabbits#Beatrice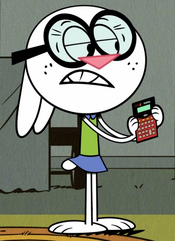 Beatrice is the one of the rabbit sisters, and the rabbit version of Lisa Loud.
Beatrice is a standard white rabbit, with a pink nose, that wears a chartreuse top with a light blue collar, and a light blue colored skirt. She also wears big thick black glasses.
Beatrice is like Lisa in every aspect: she's the smartest member in the family, and has a lateral lisp.
Absences
Main article: Character appearances
Season 1
Season 2
Season 3
Season 4
Trivia
Clip
Sources
Community content is available under
CC-BY-SA
unless otherwise noted.