Jurassic World: Dominion Dominates Fandom Wikis - The Loop
Play Sound
"Lucha Fever with the Casagrandes" (originally titled "Ronnie Anne Faking Sick") is the ninth episode of the fourth season, the one-hundred-fifty-eighth episode of The Loud House, and the ninth and final episode of the Casagrande story arc.
Plot
Ronnie Anne fakes being sick to watch a Lucha Libre match, which proves to be more difficult than anticipated.
Synopsis
In Ronnie Anne's room, Ronnie Anne and Sid are watching a video on a famous wrestler named La Tormenta. Ronnie Anne says that she's planning on watching the wrestling championship because it's going to be La Tormenta's final match before retirement. Unfortunately, Ronnie Anne discovers that the championship is on at the same time as an awards ceremony Carlos is attending and needs everyone in the family to support him. As Ronnie Anne explains her situation to Sid, she realizes that she can pretend to be sick, so she won't have to go to the ceremony. Using some of Carlota's makeup and a fake thermometer, Ronnie Anne tells her mother that she's "sick". Maria falls for the trick and tells the others that Ronnie Anne has to stay home. This causes Rosa to grow concerned, but Ronnie Anne assures her that she can take care of herself.
As Ronnie Anne and Sid watch the championship, Ronnie Anne suddenly gets a call from her father. Ronnie Anne quickly dumps some vase water and rubs some chili pepper on her face to make it look like she's sick before quickly hanging up. At that moment, Par arrives so she can check up on Ronnie Anne. This makes Ronnie Anne realize that Rosa has contacted everyone she knows to check up on Ronnie Anne. With Sid's help, she manages to drive everyone who comes away. Suddenly, when it seems that everything went fine, Sergio warns the two that Rosa is coming. Rosa barges into the apartment, screaming in panic. Rosa says that she couldn't bear Ronnie Anne being by herself while she's sick and decides to help her heal.
Throughout the night, Rosa attempts to heal Ronnie Anne. However, this causes Ronnie Anne to miss the championship. Sometime later, Rosa gets a call from Carlos, saying that he wishes that she could be there at the university to support him. Rosa states that while she would love to support him, she needs to help out Ronnie Anne more. Feeling bad, Ronnie Anne admits that she wasn't sick, and while Rosa is displeased that she lied to her, Ronnie Anne says that she knows how to get to the university in time.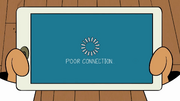 Ronnie Anne skateboards over to the university with Rosa on her back and arrive just in time as Carlos is about to give his acceptance speech. After the ceremony, Rosa forgives Ronnie Anne for her trickery. Carlos reveals that he wants to head back home because he doesn't want to miss La Tormenta. Bringing up the championship on his phone, the family watches the final match, but at that moment, the internet goes out, much to the Casagrande family's dismay.
Cast
Bobby, CJ, and Carlitos have no lines in the episode.
Physical distribution
This episode is available on the "Saison 4 : Partie 1" DVD.
Trivia
According to Carlos, his first achievement involved dinosaur DNA.
The episode's premise is similar to "Tough Hooky" from the Loud House graphic novel Family Tree, which also revolves around Ronnie Anne pretending to be sick.
This is the last Loud House episode directed by Miguel Puga.
This is the first Loud House episode to be written by Katie Mattila.
The title card of this episode is similar to that of "One Flu Over the Loud House".
This is the only episode where Sumalee Montano voices La Tormenta.
References
Lucha Fever - The title of this episode has a double meaning; Ronnie Anne is obsessed with Lucha Libre, and she is pretending to have a fever.
El Tigre: The Adventures of Manny Rivera

The theme song was used during the wrestling match.
A wrestler named La Tigresa is an alter ego just like El Tigre character Frida.
El Tigre creator Jorge Gutierrez guest stars in the episode.
Error
In the Greek dub Sid's line "Love these capes you made!" is said with CJ's voice.
Video