'The Loud House' Profile: Lucy Loud
| | | |
| --- | --- | --- |
| " | I rather enjoy the darkness. | " |
Lucy L. Loud is a main character in The Loud House.
Biography
At eight years old, Lucy is the fifth youngest child of the Loud family and the oldest of Lincoln's five younger sisters. Her most annoying habit is popping up and scaring people, a running gag in the series. Lucy attends school at Royal Woods Elementary.
Personality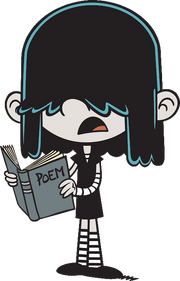 Lucy is a gloomy, cynical, deadpan, and mysterious goth girl who is almost always seen with a stoic frown. She is interested in occultism, poetry, and the works of Gothic authors, like Edgar Allen Poe and H.P. Lovecraft. She has an uncanny ability to seemingly teleport to different places, which often spooks her siblings, especially Lincoln. Some of her siblings refer her as a "spooky" girl. She frequently uses words to describe her actions, such as saying the word "Sigh" instead of actually sighing. The reason for her gloomy and miserable persona is because she feels left out that nobody listens to her and everyone thinks she's weird (despite their obvious quirks).
Though typically rather gloomy, she is shown to be happy on several occasions. She squeals and giggles in "Heavy Meddle", along with her sisters, upon learning of Lincoln's romantic situation. Also in some other episodes she can be seen smiling from time to time (as opposed to her usual smirking), like in "It's a Loud, Loud, Loud, Loud, House", where she is joyfully celebrating the money finding with her other siblings, and in "In Tents Debate", where she is happy that she gets the option to go to "Aloha Beach". She is also shown to be rather compassionate, as she shows sympathy for Lincoln's dilemmas, and always shows her appreciation for his kindness.
In "Sleuth or Consequences", it is revealed that she was responsible for clogging the toilet with her book Princess Pony, stating that even she needs "a break from the darkness" once in a while. Despite her depressed and cold attitude, she looks to enjoy being with her siblings, and sometimes departs from darkness to have fun with them.
In "A Grave Mistake, Lucy was revealed to be determined and never gives up as she wanted to become the president of Morticians Club. After her actions causing the audiences disgusted at Ricky the Rooster's worst funeral, she becomes more acceptable and letting Haiku takes her place, along with her.
Nick Description
"

"Lucy Loud loves all things spooky and dark. She can usually be found reciting her moody poetry or sharing her morbid point of view. If you haven't seen Lucy in a while, don't worry... she has a knack of mysteriously appearing when you least expect it!"

"
—Nickelodeon, 2016
Appearance
Lucy has very pale skin and long black hair covering her eyes. She's very thin, and a bit smaller than Lincoln. Lucy dresses in black and white, wears long striped arm sleeves and stockings, a black dress worn over a striped shirt, and black shoes.
Her nightwear is a white t-shirt and black-and-white striped pajama pants. Her swimwear consists of a striped swimming dress with black leggings.
Alternate Versions
Lars Loud
Main article: Lars Loud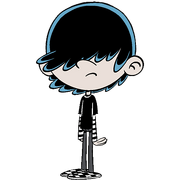 In the alternate dimension where the sisters are boys, Lucy's counterpart is a male goth named Lars. Like Lucy, he shares the same room with Lynn but also shares with Lincoln (as Lincoln's original bedroom is still a closet), and instead of a bed, he sleeps in a coffin. Unlike Lucy, however, Lars is disrespectful towards Lincoln, obnoxious and aggressive, as shown when the latter accidentally scratches his coffin bed after getting a rude awakening.
Eight of Spades
In the minicomic Deuces Wild!, Lucy dons the superheroine alter ego of the Eight of Spades, who is also one of Ace Savvy's sidekicks. She uses a shovel with a spade-shaped head. In the comic, she is summoned by Savvy (played by Lincoln) alongside the rest of Savvy's deck (played by the rest of her sisters) to help him and One-Eyed Jack (played by Clyde) to defeat the gas monster. After they defeat it, they prepared to fight against a garbage monster.

The Eight of Spades made another appearance in the comic Lincoln wrote in "Pulp Friction". In this appearance, she dug a hole in which two thugs were thrown into by The Night Club's music.

Coincidentally, her alter-ego name also represents her age.
Bella
Main article: The Loud Rabbits#Bella
Bella is one of the rabbit sisters and a rabbit version of Lucy. She appears in "White Hare", and is the only rabbit who is not white.
Absences
Main article: Character appearances
Season 1
Season 2
Season 3
Season 4
Trivia
Clip
Sources
Community content is available under
CC-BY-SA
unless otherwise noted.