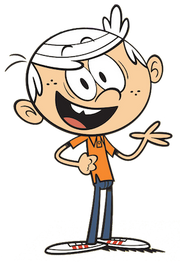 Welcome to my message wall! You can ask me all you want. But, here are the rules:
1. Don't spam.
2. Don't troll.
3. Do not ask me stupid questions on my message wall.
Everyone is welcome to my wall!

Follow

I kinda noticed your profile page still mentions your former name: RedDragon2515. You going to change it or leave it as it is? ¯\_(ツ)_/¯

Follow

What's up. Remember me from ESB?

what about No End in Bite? did you watch that short?

if not, what about Making the Case?

I haven't watched No End in Bite. Making the Case was a really good episode. I know most people hate it, but I actually like it. And you said it was your favorite season 1 episode. I agree with you. I loved the funny moments of Lincoln embarrassing himself to get even with his sisters. And most people hate this episode because of the sisters being mad at Lincoln, but Lincoln just wanted a trophy to put in his trophy case. And it was really nice of the sisters to give Lincoln a trophy to make up for him losing the contest.

It was so awesome. I loved how the siblings were fighting over their leftovers. And I liked how Lynn Sr. decided to use his leftovers for Timothy to eat. This episode was definitely the start of Lynn Sr. having his own restaurant in Cooked!

It was good. But I didn't watch it in a minute. One of the episodes where the sisters care for Lincoln.

I love Season 1. I think it was the best season so far. I love most of the episodes, including some of the overhated ones.

Season 2 was not a good season. There were plenty of episodes that was meh to scumhouse, and they needed improvement. Even though my least favorite episode is a season 2 episode, my favorite episode is from season 2 as well. And I think some of the episodes from season 2 was overrated, but I like a few overrated episodes.

Season 3 was good. I liked how some of the episodes focused on the sisters more. And there were only a few bad episodes from season 3, which makes it great.

Season 4 is so far a good season. I love the Casagrande Arc. And the regular Loud House episodes were good. Except Kings of the Con.

It was good. I loved how Lisa became friends with Darcy. Even geniuses like Lisa can make friends, too.

I love that episode. It was so funny. I especially liked the part where Lynn kicked the soccer ball on Lola's nose.

I think it was bad. Everyone was being a jerk to Lincoln in that episode, and I hated it so much. And it was one of the many Lincoln torture episodes that I hate.

I haven't watched that episode, but I promise I will. And I'll tell you my opinion on it when I finish watching it.

Friended! was a good episode. I liked how Ronnie Anne and Sid became best friends in the end. It was so sweet.

I love that episode! I love the relationship between Lincoln and Lynn. They're so cute together.

I think this episode was good. And I especially liked the part when Lincoln was yelling over the phone while Luna was censoring his message.

Intern for the Worse was a funny episode. Turns out Flip is a nasty dude in his store.

I don't really like that episode. It was kind of meh to me. But I did learn a lesson from this episode: Always be yourself.

I haven't watched too much of the episode, so I'm not really sure. I'll have to rewatch it to see.

I'm not a fan of this episode. Lynn Sr. was being too selfish over Veronica. But I'm glad they got Vanzilla back in the end.

I hate that episode so much. Lincoln really needs to be strong and stand up to his sisters for making him do all of their chores all by himself. And I didn't think it was funny how the siblings dressed up as each other. This episode is very overrated.

Follow

Welcome to

Hello, RedDragon2515! Thank you for your edit to User:RedDragon2515!

If you want to be involved in the community, you could start by making a blog, Discussion post, or a forum post.

If you need help, see the Policy or Manual of Style. If neither of these links answer your questions, send one of the staff members a message.

If you are not logged in, you will see this lock () on most pages. Log in or create an account to fully experience Wikia! If you are logged in, however, then you will see this wrench (), meaning you can edit!

I speak for all of our staff when we say we're glad to have you, and we hope to see you and your edits soon!
Give Kudos to this message
You've given this message Kudos!
See who gave Kudos to this message
Community content is available under
CC-BY-SA
unless otherwise noted.