Hiya, you've reached Veenster7. Feel free to leave a message on my wall and I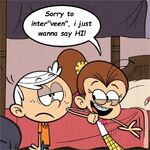 will get back to you as soon as possible. 
Message me if...
Edit
You have a question.
You need my help with anything.
You would like to talk (I'm not the best at conversations, but I do know TLH and could talk quite a bit about it).
You would like to have a proper debate or conversation about something we disagree on.
There is a certain image or GIF animation you'd like uploaded to the wiki. I can help with most (if not, all) of these cases.
Do not message me if...
Edit
You are intruding in a conversation going on my message wall.

Only do this if you have something important to say on the matter at hand or have been invited in.

You are spamming my message wall.

I see everything on my wall, if I don't respond, there is a reason behind it.

You're getting too weird for me.

Follow

Hello, Veen. Can you please delete the comments off of my newest blog? Thank you.

They're not really breaking any rules, Aja. I don't see a reason for them to be deleted.

I don't mean to butt-in but I was about to comment on Aja's blog, but it seems comments have been disabled. I had an actually serious comment, too.

Follow

Was it because I'm inactive

Follow

Excuse me, Veenster. If we can help make some improvements on both the Loud and Casagrandes wikis, like making some new boxes on the Casa side just like the Loud, them can both sides stay separate?

Follow

Hey, Veenster. How are you?

Follow

User_blog:PicholasStripes2000/Creepy_Crawly_Cockroaches

User_blog:PicholasStripes2000/Fanfiction_Song_-_Creepy_Crawly_Cockroaches

Both of these posts were made within four minutes of each other by the same user. The only difference is the title, and there is not even a mention of TLH in either one.

Follow

Please block lily for making me 100 percent angry.  
Give Kudos to this message
You've given this message Kudos!
See who gave Kudos to this message
Community content is available under
CC-BY-SA
unless otherwise noted.