Dori
Dori is an unseen minor character in The Casagrandes. She is Par's girlfriend who lives in New York. To date, her only "appearance" was giving Par a phone call in "Never Friending Story".
Dylan Cornheiser
Dylan Cornheiser is an unseen minor character in The Loud House.
In "Lincoln Loud: Girl Guru", Lisa mentioned that Dylan Cornheiser tried to hold her hand at recess. She told him to learn basic chemistry and then they'll talk.
Jay Rock
Jay Rock is an unseen minor character in The Loud House.
Biography
Jay works at an unnamed radio station.
He is only heard through Luna's radio in "Undie Pressure". He's giving away tickets for a Mick Swagger concert to the caller with the best British accent. Luna calls to the radio station and speaks in her British accent, losing the bet in the process.
He returns in "Making the Grade", to announce free passes for the Royal Woods Spa to anybody who can name the three classifications of rocks. Eager to win them, Lola quickly dials the number, and tells Lisa to give the answer. However, instead of naming the three classifications of rocks, she instead gives off three types of rock music, which costs them their chance of winning the passes.
Trivia
He has the same name as American rapper Jay Rock.
Lynwood Loud
Hey, Minor characters/Unseen, how'd you like to be with The Loud Family?
It has been suggested that this article should be merged with The Loud Family. You can discuss this suggestion on the talk page.
Lynwood Loud is an unseen minor character in The Loud House.
Lynnwood is the first Loud with flat feet. He was mentioned in "Home of the Fave" when Lynn Sr. was showing Lucy her ancestors.
Trivia
His Polish name is Hipolit Harmidomski.
Gallery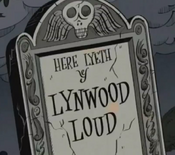 Margie
Not to be confused with Maggie.
Margie is an unseen minor character in The Loud House. She was one of Lynn Sr.'s co-workers at his previous job.
Biography
Margie was first heard in "A Novel Idea", where Lana and Lola try to attack her in Lynn Sr.'s office for "Take Your Daughter To Work Day". She hates that event, and has never had an on-screen appearance. After the twins attacked her, according to Lola, she took a leave of absence.
Marty Malach
Marty Malach is an unseen incidental minor character in The Loud House.
Biography
He is only mentioned in "Out of the Picture", where Liam tells his story. Marty wasn't in any group portraits, and all he has is the itty bitty portrait of him, and no one looked at it. As a result, he's now forgotten, and he lives behind Liam's barn.
Trivia
His surname is a reference to the show's producer Karen Malach.
Seeing as Marty is never seen, it is unknown if he exists or if Liam was just telling a scary story.
Boris's mother

Boris's mother is the mother of Lucy's friend Boris.
She is a home decorator and Boris hates her decor. He also doesn't like when she calls him by his actual name Robert, interrupts him, and shows his infant photos. Despite this, they seem to get along well and she makes hot dogs which he enjoys.
In Listen Out Loud, the Morticians Club tried to raise the ghost of Ricky the Rooster in Boris's house, but his mother got in the way. Later, she made a rooster noise with Boris's synthesiser so the kids wouldn't get disappointed which she revealed ot the listeners. Boris' mother got scared upon hearing an actual rooster.
Sources
Community content is available under
CC-BY-SA
unless otherwise noted.