The Princess Car is a vehicle owned by Lola Loud. She uses it as a mode of transportation, in or out of the house.
Appearance
Lola's princess car is a small, pink vehicle that seats two people. It has a spoiler, and has customizations, such as stickers all over it. There is also what seems to represent a smiley face on the front of the vehicle, which has lipstick, and eyelashes on it.
Although it is a toy car, it functions with real gasoline, and also has an engine. It runs on fossil fuels according to "The Green House". In "Yes Man", Lola refers to the car as a jeep.
Genderbent version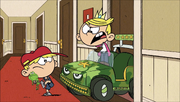 In the alternate genderbent dimension from "One of the Boys", Lola's male counterpart Lexx drives a male variation of the car. This one has a military camouflage paint job, stars designed after military stars for soldier ranks, and a more menacing face.
Usage
Lola is the owner of the vehicle, and is often the one at the driver's wheel. She likes to drive around in it and have races around the house. She also uses it when she wants to get something that she wants from her other siblings, or stop them from getting in her way. Lola is shown to be an excellent driver at her age. Lana and Lucy can also drive the vehicle.
Appearances
Season 1
Season 2
Season 3
Season 4
Season 5
Trivia
Community content is available under
CC-BY-SA
unless otherwise noted.