Robert Fredrick "Rob" Paulsen III is an American actor, voice actor, author, and singer, who is one of the most recognized people in the animation field, and his career has spanned since the early 1980s.
He has had several noteworthy roles in the world of animation, and is best known as the voice of Raphael in the original Teenage Mutant Ninja Turtles cartoon, Yakko, Pinky, Otto Scratchensniff, and many others in the critically acclaimed series Animaniacs, Pinky in the series spin-off Pinky and the Brain, Spike from The Land Before Time and was also the voice of The Mask.
He is also very well known for his roles at Nickelodeon, and some of his noteworthy Nick roles include Donatello in the 2012 Teenage Mutant Ninja Turtles series, Carl Wheezer in The Adventures of Jimmy Neutron: Boy Genius, Jack Fenton and Technus from Danny Phantom, Mark Chang from The Fairly OddParents, and Foot Lieutenant from Rise of the Teenage Mutant Ninja Turtles, for which he also serves as voice director.
He also has his own animation podcast called Talkin Toons with Rob Paulsen, where quite a few cast members of The Loud House have appeared, including Lara Jill Miller, Grey Griffin, and John DiMaggio.
Biography
Trivia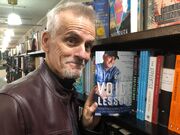 He published his own book called "Voice Lessons: How a Couple of Ninja Turtles, Pinky, and an Animaniac Saved My Life".
Selected Filmography
Television
Film
Teacher's Pet - Ian Wazselewski
Video games
Gallery
External Links
v - e - d The Loud House cast
Community content is available under
CC-BY-SA
unless otherwise noted.