She-Hulk Trailer Dropped - The Loop
Play Sound
"

I just moved here, and I wanna try every new thing I can!

"
—"Friended!"
Sidney "Sid" Chang[n 1] is a minor character in The Loud House, and a main deuteragonist in The Loud House spin-off The Casagrandes. She debuted in The Loud House's Season 4 premiere, "Friended! with the Casagrandes", where she appeared as a new girl in the city who became Ronnie Anne's best friend.
Biography
Sid Chang is a new girl in Great Lakes City who is best friends with Ronnie Anne. Sid and her family live in the Casagrande Apartment in apartment 3A. She lives with her parents, Becca and Stanley, and her younger sister Adelaide.
Personality
Sid is a very bubbly and sweet girl, and a very nice friend to Ronnie Anne. Just like Ronnie Anne, she and her family had just moved to the city as of "Friended! with the Casagrandes". She is shown to be into trying out everything she sees her peers doing in the city. She enjoys various activities such as eating hot dogs for breakfast and skateboarding after seeing Ronnie Anne doing them.
She is later shown to have her own interests such as robotics. She constructed Breakfast Bot and reprograms it, when she needs.
She is shown to have such an interest in K-pop, especially Twelve is Midnight, that she wants to save up for a life-size cutout of Yoon Kwan, and later says she wants to get cutouts for all the members of the band. She and Ronnie Anne also spent fifty dollars at a Twelve is Midnight pop-up store. She used the money on Twelve is Midnight merchandise such as a Yoon Kwan waffle maker, but later reveals she didn't need it because she doesn't even like waffles. She dreams about marrying Yoon Kwan as she put on his photo a picture of herself in bride dress.
She is also interested in animals, due to her mom having a job at the city zoo. She owns several pet animals that her mom has saved from around the world. Because of her interest in animals, she is also really good at doing impressions, such as bird calls, which she tends to use for secret missions and communication.
Appearance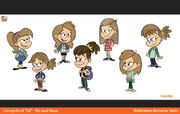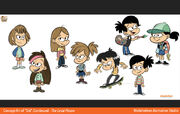 Sid is a light-skinned, half-Chinese girl, with long brunette hair and freckles. She wears a blue long-sleeved shirt revealing her shoulders, black shorts, a pink headband, white earrings, white socks with red heels, toes, and cuffs[2], and black tennis boots.

She also has a birthmark on her right foot in shape of Abraham Lincoln.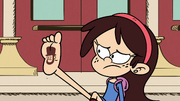 In The Loud House, she was animated without eyelashes; however, official artwork and artwork by crew members depict her as having eyelashes. In The Casagrandes, she was given eyelashes, while her head was redrawn to have bigger temples.
Sid also went through many different phases of prototype designs. In these designs, she was shown to have much lighter hair and braces for the most part but went through phases of having different hair and clothes. She was eventually given darker hair, but in her final design, she had brunette hair.
Trivia
Sid was one of the few female characters in the series introduced with no visible eyelashes.
Sammie Crowley
@SammieCrowley
Replying to @WyomingParmesan
Hi Natalie! She's half Chinese. Although in early development she was originally half Korean and her last name was Kang! It was changed early in the process though
Nov 5, 2019[3]
According to former The Loud House writer Sammie Crowley, Sid is half-Chinese. Early in development, she was planned to be half-Korean with the last name Kang.
It is implied in "The Two of Clubs" that Sid wears mascara, as Ronnie Anne mistook squid ink running down her face for tears when she looked sad at one point.
Sid can be considered a foil to Lisa. While both are intelligent, brown-haired girls who make robots, Sid is much more likely to show emotion and speaks more loudly.
It sounds like she can whistle super loudly with two, three, or four of her fingers.[4]
She made a cameo in Lincoln & Ronnie Anne's VLOG in episode #13, "HUGE Announcement".
She has never skateboarded before.[5]
She has never had a hot dog with anything extra on it.[5]
She is good at doing bird calls.[5]
Sid does not like waffles, but likes pancakes instead.[6]
She can impersonate a chimpanzee, humpback whale, and different accents.[7]
She enjoys watching Lucha Libre, but does not enjoy actually participating in it. She is also good at engineering and knitting, but bad at pottery and preparing calamari.[8]
She has bunions.[9]
Sid is the only one of Ronnie Anne's friends to ever meet one of Lincoln's friends (Rusty).
In the episode "Gossipy Girl", it is revealed that Sid's name is actually short for Sidney.

It is also revealed that she also sleepwalks whenever she watches videos before bed. During her sleepwalking, she once played with Adelaide's face, ate a carton of milk, and did a tango with Cam.
It is also revealed that she has a birthmark on the bottom of her right foot shaped exactly like Abraham Lincoln's face, and even talks to it.

She has always admired the "tenacity" of ants, she has apparently fallen asleep outside by accident before, and she only likes ghost stories if they have happy endings.[10]
If somebody calls her actions crazy, she will take it as a compliment.[11]
She once dreamt that she stayed up for three days.[12]
She and Lincoln are Ronnie Anne's only friends whose last names have been revealed.
Notes
Sources