This page describes all of Sid's relationships with her friends.
Family
Becca
Sid seems to get along well with her mother. She often helps her with animals under her care.
In "Room for Improvement with the Casagrandes", after making up a lie to throw off suspicion of the secret room she and Ronnie Anne discovered, she realizes Becca was using her toothbrush to brush a sloth's teeth, which grossed her out.
In "Trend Game", Sid helped her Mom give some lemurs a haircut and then had to be out of the apartment for a while so they can calm down.
Stanley
Sid seems to get along well with her father.
In "New Haunts", she had to remind her Dad to keep driving the GLART train as he was discussing how wearing a costume for Halloween would not interfere with his job.
In "The Two of Clubs", Stanley overheard his daughter discussing with Ronnie Anne which clubs to try and suggested the Introduction to Model Trains club. Later, he got devastated when he learned that she wasn't even interested, which leads him to stopping the train before it reached its destination and walk out. Sid mentions how this isn't the first time he's done this.
Adelaide
When Sid shows a picture of her family to Ronnie Anne in "Friended! with the Casagrandes", she calls Adelaide a "professional little sass bucket", implying that she sometimes finds her little sister annoying, but still cares very much for her.
In "Room for Improvement with the Casagrandes", Adelaide wanted her big sister to play dragon for her, but she was busy trying to dance with Ronnie Anne. Later, they spend time together at the park. In attempt to tire her out, Sid tells Adelaide to dig to the bottom of the sandbox until she finds a portal to Australia.
In "Croaked", Sid wanted to make Adelaide feel better when she is grieving over the death of her pet, Froggy.
In "How to Train Your Carl", Adelaide was under Sid's care during a safari tour at the zoo.
Friends
Ronnie Anne
From the moment Ronnie Anne met Sid Chang, they quickly became best friends. In "Friended! with the Casagrandes", Ronnie Anne wanted Sid to live in the Casagrande Apartment, so they can be closer together. Ronnie Anne made a plan with her brother, cousins and Sid to scare off any applicants and turn apartment 3A into a total disaster so the Chang Family can move in. At the end of the episode, the Changs were allowed to live in the apartment, and Ronnie Anne and Sid became closer BFF's.
In "Room for Improvement with the Casagrandes", the duo come across a hidden room in the laundry room while looking for a place of their own to practice their dancing and inconspicuously bring some of their belongings to place in the secret room to decorate it and plan to use it later. Throughout the rest of the day, the various tenants of the apartment arrive and apologize if they got in the way of hanging out and state that if the two want to hang out in the apartment, they can simply ask them and they'll leave. Feeling bad for keeping the room a secret, they decide to tell everyone and work out a system so that everyone can use it in their own time, including Ronnie Anne and Sid when they practice their dancing in peace.
In "Face the Music with the Casagrandes", when Ronnie Anne confides to Sid about her stage fright with Hector's birthday coming up, she attempts to help her conquer her fears by performing in front of folks on the subway and on an empty street, but with no success.
In "Pranks for the Memories with the Casagrandes", Sid was impressed by how well Ronnie Anne gets along with her male cousins. But when it came to Carlota, it ends up feeling awkward. Sid empathizes her situation with how she can't connect with a kookaburra at the zoo. When the adults leave, Sid tells her to seize this chance to bond with Carlota. By the end of the episode, Sid sends Ronnie Anne a picture of her finally bonding with the kookaburra just as she is bonding with Carlota.
In "Lucha Fever with the Casagrandes", after fooling her family to think Ronnie Anne is sick, Sid joins in watching La Tormenta on the wrestling championship with Lucha Libre masks and capes she designed for them, and with Sid's help, they manage to drive away everyone who comes to check on her.
In "Walk Don't Run", when they offer to walk Nelson for Mr. Nakamura, he pays them for their help, which gives them the idea to start a dog-walking business to save up on money. They are paid by the tenants for each dog they are given to walk, but they get scared off by the Street Cats and end up using the money they were paid while trying to get them all back. In the end, they're back to walking just Nelson.
In "The Two of Clubs", they look for an after-school activity club to do together as to not lose any of their hangout time. Lucha Libre club was right for Ronnie Anne, but too aggressive for Sid. Robotics club was fun for Sid, but Ronnie Anne barely knew what to do. After trying various other clubs with none of them working out, they try to compromise to let the other do their favorite clubs separately. The next day, they decide they wanted to join their clubs for their friend's sake. But then, Laird gives them the idea to combine their favorite clubs and start a Lucha Libre Robotics club.
In "New Haunts", they get invited to a sixth grader's Halloween party and arrive in costumes while no one else is wearing a costume. They end up ruining the party and throw away the costumes before going to Sameer's party, but when the bouncer won't let them in without a costume,they retrieve their costumes from the trash to get in, despite how much they reek. After finding a rat in Sid's costume, she and Ronnie Anne fall into the half pipe and end up destroying their costumes, making the bouncer kick them out. As the girls bemoan how horrible their Halloween went, they arrive back to the Mercado and manage to salvage the night, thanks to Bobby, by doing the vampire boogie.
In "Croaked", Sid, with help from Ronnie Anne, tried cheer up her little sister Adelaide grieving over the death of her pet, Froggy with teaching her the celebration of the Day of the Dead.
In "The Horror-Scope", while Sid is on the lookout for a missing bird, Ronnie Anne asks her to accompany her and Lincoln and be her wingman to keep anything romantic from happening between them. As they hang out, she spots the bird she was hunting and leaves them to catch it. Later, Ronnie Anne catches the lovebird in her apartment and Sid arrives to pick it up.
In "Finders Weepers", they discover a coin purse in the Mercado and find a $100 bill inside. The duo ask all the tenants of the apartment if they lost a coin purse, but none of them state that it's theirs and then post flyers for the lost purse around the city. But then they continuously give into temptations to spend the money in the purse until Maybelle calls to pick up her coin purse. Ronnie Anne and Sid desperately attempt to make $100 in order to make up for all of their careless spending, but only to succeed in making a few dollars, forcing them to come clean with Maybelle and do chores for her until they're paid off.
In "How to Train Your Carl", Sid and Adelaide, along with Ronnie Anne, CJ and Carl, join on a safari tour with their parents.
In "The Horror-Scope" Sid agreed to be Ronnie Anne's wing-woman during her meeting with Lincoln, but it didn't last long, because she had to look after a missing lovebird.
In "Operation Dad", Sid gives Ronnie Anne a boost on the subway to get a better reception on her phone to hear Arturo's news. Later, Ronnie Anne vents to her best friend about her Dad going back to Peru after his visit and when she points out that it may be because he doesn't think she needs him like his patients, this gives her an idea of how to convince him to stay. The next day when Sid sees her in her rebel appearance, she cowers in fear of getting bullied, but is quickly reassured that it's only Ronnie Anne and is then asked to call Arturo, impersonating in a teacher's voice, to lure him to the back of a fish market.
In "Copy Can't", they both prep to enter a go-kart race together with Sid adding customizations to their helmets and kart. She even tries to offer her help with getting Carlitos to copy her. On the day of the race, she helps make a Ronnie Anne clone out of Bobby so Carlitos will focus on him instead of his cousin. But as they start racing, Carlitos rides after them on Lalo onto the tracks. They pull him into the kart with them, but end up crashing and losing the race.
In "Trend Game", Sid thought it was hilarious how Ronnie Anne was doing the backwards challenge by wearing her sweatshirt backwards. Later, she tags along with Ronnie Anne, Casey, Sameer, and Nikki after helping her Mom give some lemurs a haircut and had to be out of the apartment for a while so they can calm down.
In "Team Effort", Ronnie Anne recruits Sid to be part of a skateboarding team, which she was reluctant to as she recalls the first time she tried skateboarding, but Ronnie Anne offers to teach her and allows her to be a hotdog mascot for the team.
Lincoln Loud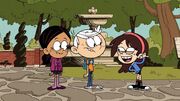 Sid and Lincoln don't interact much, but Ronnie has told her about him. They meet face-to-face for the very first time ever in "The Horror-Scope". When Ronnie Anne told Sid that she's afraid that Lincoln may be in love with her, Sid was surprised to hear it. Sid accompanied Ronnie as her wing-woman during their meeting with Lincoln. When Sid met Lincoln personally, she said to him that she can see why Ronnie Anne loves being his friend.
In the comic, "Rain, Rain, Here to Stay" (printed in Livin' La Casa Loud!), as Lincoln is visiting, they, along with Ronnie Anne, planned to spend the day at the zoo, but are unable to due to the rainy weather outside. So, they spend their day inside the Bodega as their own trip to the zoo. They don't notice the rain has stopped until Sid's parents, Bruno, and Par show up, hear them laughing inside the Bodega and join in on their fun.
"There's Nothing Here!"

This article is a

stub

. You can help The Loud House Encyclopedia by

expanding it

.
v - e - d Character Relationships
Community content is available under
CC-BY-SA
unless otherwise noted.