This is it. A whole new episode of my favorite show, can't wait to watch it.
Today, Singled Out will premiere, but not yet. This template can be replaced with On Air when it's time.
"Singled Out" is the upcoming thirty-third episode of the fourth season, and the one-hundred-eighty-second episode of The Loud House.[1]
Plot
Feeling like a third when her teammates find significant others, Lynn seeks a boyfriend just to fit in.
Cast
Trivia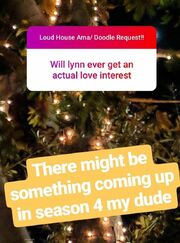 Ari Castleton confirmed this episode on an Instagram story when he had a Q&A and was asked if Lynn would ever get "an actual love interest".
Lincoln appears on the title card as the emblem on the cup the couple in the left heart are drinking out of.
References
Singled Out - The title of this episode is a phrase meant to speak out towards someone specific in a group.
Star Wars - The character on Dexter's shirt has a similar appearance to the character Yoda from this film franchise.
Sources