Wiki Targeted (Entertainment)
Play Sound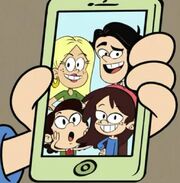 The Chang Family is composed of Becca, Stanley, Sid and Adelaide. They debuted in the episode "Friended! with the Casagrandes".

Family members
Sid's grandfather
Sid grandfather's second cousin
Great aunt Millie
Meatball
Meatball is an iguana belonging to the Chang family. He appeared in "Room for Improvement with the Casagrandes".
Appearance
Meatball is an iguana. He has green scales, huge white eyes, a long tail in black stripes, pale green scales on his head and back.
Biography
Meatball is first seen in "Room for Improvement with the Casagrandes." When Ronnie Anne first meets him, Adelaide states that her mom brought Meatball home while her habitat is being renovated.
Froggy
Froggy is the pet frog of Adelaide.
Biography
Froggy was the pet frog of Adelaide. In "Croaked," Froggy passes away leaving Adelaide depressed. Ronnie Anne and Sid try to show Adelaide a "Day of the Dead" montage by using a frog on loan from Pete's Pets as well as dressing up as relatives with Carlos dressing up as Abraham Lincoln. When it all fails leaving Adelaide further depressed, Ronnie Anne enlists Rosa for help to show her how "Day of the Dead" actually works. During the "Day of the Dead" festival, Pete allows Adelaide to keep the frog which she names Froggy 2. When it comes to the group photo, Froggy's ghost is seen with the Ghost of Lazaro.
Appearance
Froggy is a standard green frog.
Personality
Froggy is a playful character and enjoys spending time with Adelaide.
Family tree
Trivia
Similar to Jancey Yates and her family, Becca is the only one who doesn't have a similar appearance to the rest of the family.
"There's nothing here!"

This article is a

stub

. You can help The Loud House Encyclopedia by

expanding it

.