Jurassic World: Dominion Dominates Fandom Wikis - The Loop
Play Sound
The Loud House is an American animated television series and media franchise created by Chris Savino, and produced by Nickelodeon Animation Studio for Nickelodeon. It is the parent show of The Casagrandes. The series is inspired by Savino's own "chaotic life growing up in a huge household," and follows a boy named Lincoln, who lives at home with his ten sisters, Lori, Leni, Luna, Luan, Lynn, Lucy, Lana, Lola, Lisa, and Lily.
Six seasons of the show have been greenlit containing 26 episodes each. The series premiered on May 2, 2016, and started its fifth season on September 11, 2020. The sixth season was greenlit on September 9, 2020, with 26 more episodes.[1]
The name of the series is a pun on the phrase "loud house," which means a very noisy house, and also a reference to the Loud family's constant mess. This is the first cartoon created and directed by Savino himself, as in the other cartoons he worked on, he was only the producer, or storyboard artist. However, on October 19, 2017, Chris Savino was fired for sexual misconduct allegations.
A feature film based on the series was released on Netflix on August 20, 2021.
A live action movie based on the series was released on Nickeldoen on November 26, 2021.
Plot
"

Welcome to the Loud House! Home to Lori, Leni, Luna, Luan, Lynn, Lucy, Lana, Lola, Lisa, Lily and… Lincoln Loud!

As the only brother in the house with five older sisters, five younger sisters and one bathroom, life in the Loud house can get pretty crazy. From unwanted makeovers to exploding science experiments to getting the perfect seat for the family road trip, there's no problem too large--or bedroom too small-- for Lincoln! And despite all of the headaches, he wouldn't have it any other way.

Lincoln's secret to surviving in the Loud House? Always have a plan. And with a little help from his best friend Clyde, Lincoln can handle anything his sisters throw at him.

"
—Official Description, Nickelodeon[2]
Episodes
Season
Episodes
Segments
Original Airdate
Season Premiere
Season Finale
1
26
52
May 2, 2016
November 8, 2016
2
26
49
November 9, 2016
December 1, 2017
3
26
48
January 19, 2018
March 7, 2019
4
26
50
May 27, 2019
July 23, 2020
5
26
47
September 11, 2020
March 4, 2022
6
26
TBA
March 11, 2022
TBA
7
26
TBA
TBA
TBA
Characters
Main Characters
Production
Chris Savino based The Loud House on his own experiences growing up in a large family. He pitched the idea to Nickelodeon in 2013 as a 2½-minute short for their annual Animated Shorts Program. In June 2014, Nickelodeon announced that The Loud House had been picked up for a season of 13 episodes. The episode order was later increased to 26.
Early in development, the Loud family was originally going to be a family of rabbits, and instead of 11 children, there were going to be 26, a reference to the fact that rabbits can reproduce so quickly. An employee at Nickelodeon suggested to Savino that it would be best if the characters were humans. At first, Savino disliked the idea, but the more he thought about it, the more he realized that the characters being human was a much better decision, as it felt more realistic and relatable, so he changed the characters from rabbits to humans, and also lowered the number of children from 26 to 11 in order to make things less complicated. This abandoned concept was eventually explored in the Season 3 episode, "White Hare."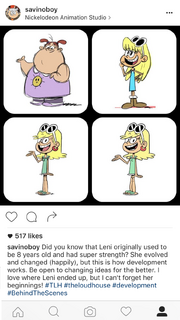 Before Leni became the character she is now, she was originally going to be an overweight 8-year-old who "didn't know her own strength." The decision to change Leni into who she is now is currently unknown, but one popular theory is that it was to make her fit in with the other characters, design wise.
Before it was decided that Lincoln would be the middle child, he was initially going to be placed in either with his older sisters or younger sisters. Eventually, it was decided that Lincoln would be best suited perfectly in the middle, as it made sense thematically.
"

The fact that he's [Lincoln] in the middle is not necessarily an accident. For a while, he was the seventh. For a while, he was a bit older and he had more sisters underneath him and somewhere in the storytelling, we realized that him being kind of, literally the fulcrum of the family [...] all kind of came into play.

"
—Chris Savino, Nick Animation Podcast

Jam Filled Entertainment, a Canadian-based animation studio located in Ottawa (now owned by Boat Rocker Media), animates the whole series digitally with Toon Boom Harmony software.
Animation notes
The show's animation style has been inspired by various newspaper comics:

The backgrounds are more crudely styled than those of the characters, and the detailing of paper can be seen. The episode title cards are also in the style of such.
Certain things don't move, such as the flag at Royal Woods Elementary School.

Occasionally, some characters are drawn with their eyebrows floating above their eyes, or partially detached from their head.
Most characters have white eyes with black pupils instead of colored eyes, some have dot eyes. In addition, when a character's eyes are closed, the lids are usually shadowed in a darker color than their skin. However, in some cases eye colors are shown (ex. Lola, Lincoln, Maybelle).

This probably works with those who wore glasses.

Characters only have four fingers in each hand and four toes on each foot.
According to Chris Savino, the more feminine a female character is, the more eyelashes they'll have.

This is most evident on Leni and Lola, since they're the two most feminine sisters in the family. Lynn also had more than two eyelashes in the past as shown in "Deal Me Out."

To add the feel of 20th century cartoons, Rita and Lynn Sr.'s faces are blocked and usually seen from chin down. Other adults avert this. The trope was discontinued in the Season 2 premiere. According to Chris Savino on Instagram, the decision to conceal their faces during Season 1 was because he wanted to visually empower the Loud kids to solve problems on their own.
Reception
The Loud House became the number-one children's animated series on television within its first month on the air. Throughout May 2016, it received an average of 68% more viewers in its target audience of children aged 6–12 than broadcasts on Nickelodeon in May of the previous year. It became the network's highest-rated program (as of June 2016) after SpongeBob SquarePants, holding an average Nielsen rating of 4.9 among the 2–11 demographic at the time.
The Los Angeles Times cited The Loud House as a major factor in maintaining Nickelodeon's position as the highest-rated children's network in summer 2016. During the show's fourth week of premieres, Cyma Zarghami announced that it was continuing to draw more viewers than any other program on the channel.
The show's highest-rated episode, with 2.28 million viewers upon its premiere, is "Two Boys and a Baby." This was the first episode to air after it was announced that Howard and Harold McBride would be debuting on the program. The first episode of The Loud House shown in prime time, "11 Louds a Leapin'," was the seventh most-viewed telecast across all U.S. households on Friday, November 25, 2016.
Censorship
"

Kenya's film and classification board (KFCB) has called for the suspension of several US-produced children's programs running on channels provided by TV company MultiChoice. The board said the cartoons featured "disturbing content glorifying homosexual behavior" which was not suitable for children.

The animation programs are The Loud House, The Legend of Korra, and Hey Arnold, which run on the Nickelodeon channel, and Clarence, Steven Universe, and Adventure Time which air on Cartoon Network.
...
It's wasn't immediately clear if the supposedly offending Nickelodeon episodes ever aired in Kenya. Viacom Africa, which licenses the Nickelodeon shows said last July it would not be airing such shows in South Africa and the rest of sub Saharan Africa.

"
—Abdi Latif Dahir, Quartz Africa[3]

As the show features same-sex couples (Howard and Harold; Luna and Sam; Lainey and Alice), episodes featuring these characters were either censored or banned in countries where homosexuality is seen as taboo. This also led to the whole show being banned in Kenya in 2017.
However, the Arabic and Sinhala dubs gave Howard a female voice actor and addressed him as Clyde's mother, while Clyde addresses Howard as his uncle and Harold as his only father in the Korean dub.
Trivia
Errors
Background information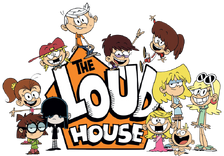 The title of this series has three meanings:

It is the main setting of the show.
It is literally a loud/noisy house.
It is the surname of the family who resides there.

For the creation of the show, Savino took some art concepts from different comic strips like Peanuts and Dennis the Menace. He also based it on some of his first works like Rocko's Modern Life, Hey Arnold!, and Kick Buttowski: Suburban Daredevil.
According to Chris Savino, it takes approximately 10 months to make a single episode.
See also
Sources