Don't miss it, or you'll be left in the dark! ARGGH!
This article covers a topic that is yet to be released. Information in it is set to be changed over time.
This page is now off limits!
This article has been protected from editing.
Reason: To avoid users from adding in false information.

The protection to this page will be removed sooner or later. Want to request an edit? Notify an admin so they can add it in for you.
The Loud House Movie is an upcoming animated comedy film based on the popular Nickelodeon series. The film will be produced by Nickelodeon Studios, while being distributed by Netflix.
Production
Paramount announced that it should be released by February 7, 2020.[3] However, the film is currently not being worked on by Paramount and may be released later than expected.[4]
On January 18, 2019, it was announced that the film had been pulled from its schedule.[5]
On February 5, 2019, it was announced by Viacom CEO Bob Bakish that the film would instead be released on the streaming service Netflix instead.[6]
On April 30, 2019, it was announced that the movie will premiere sometime during 2021.[7]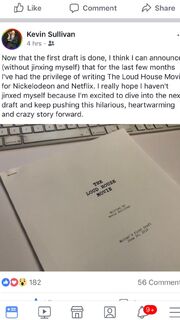 On June 20, 2019, Kevin Sullivan completed a draft of the movie.
Trivia
Gallery
Sources
Community content is available under
CC-BY-SA
unless otherwise noted.