ABOUT THE SHOW
The Loud House follows the daily adventures of Lincoln Loud, an eleven-year-old boy with ten sisters. In each episode, Lincoln must find a new way to solve the problems that face his huge household. The series was created by animation veteran Chris Savino and currently airs on Nickelodeon.

POLL #1
What would you give "The Loudest Thanksgiving"?
POLL #2
What would you give "Really Loud Music"?
WELCOME TO THE LOUD HOUSE ENCYCLOPEDIA!
FEATURED CHARACTERS: MICHELLE and DOUG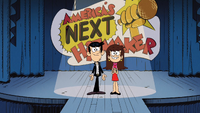 Michelle and Doug are the main antagonists of the half-hour special, "Really Loud Music". They are the producers of the TV show, America's Next Hitmaker They are modeled after the series songwriters, Michelle Lewis and Doug Rockwell.
Michelle is a slender woman with long brown hair. She wears a red dress with a gold belt, a pink scarf, gold hoop earrings and black high heels.
Doug is a slender man with black hair, and a bit of stubble on his chin. He wears a black jacket with a white collared shirt underneath, black pants with a black belt, and brown dress shoes.
Michelle is voiced by Rachel Butera, and Doug is voiced by Doug Rockwell himself.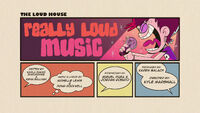 "Really Loud Music" is the one-hundred-thirty-third episode, and the fifth full-length episode of The Loud House. It premiered in the United States on November 23, 2018. It was written by Karla Sakas Shropshire and Kevin Sullivan, directed by Kyle Marshall, and storyboarded by Miguel Puga and Jordan Rosato.
In this episode, Luna wants to submit a song to the TV show America's Next Hitmaker, in hopes of winning a song-writing contest, but after completing her song, she begins to doubt if it's a song the whole world will love. When she sees her siblings sing songs of their own, Luna struggles to find the song that will satisfy everyone.
Fun fact: A total of fourteen songs were written for this episode, and three of them were performed by Luna.