ABOUT THE SHOW
The Loud House follows the daily adventures of Lincoln Loud, an eleven-year-old boy with ten sisters. In each episode, Lincoln must find a new way to solve the problems that face his huge household. The series was created by animation veteran Chris Savino and currently airs on Nickelodeon.

POLL
Which recent premiere did you like most?
WELCOME TO THE LOUD HOUSE ENCYCLOPEDIA!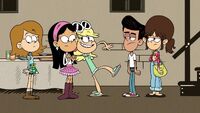 Fiona, Miguel, Jackie, and Mandee are Leni's friends as shown in the episode "Everybody Loves Leni". Fiona and Miguel are Leni's work friends, and Jackie and Mandee are Leni's school friends. While Miguel, Jackie, and Mandee first appeared in the aforementioned episode, Fiona first appeared in the episode "Crimes of Fashion".
Fiona has long brown hair tied up in a ponytail, wears a pink sweater with horizontal, fuchsia stripes. She also has light blue jeans with the legs rolled up, and black slip on shoes. She also has a mole on her right cheek.
Miguel has dark tan skin and dark, styled hair. He wears a plain white t-shirt, bright blue jeans, a black belt around his waist, and red sneakers.
Jackie has tan skin, and long black hair. She wears purple eyeshadow, a white long sleeved shirt, pink ruffled skirt, a pink headband on the top of her hair, light blue diamond earrings, and dark purple boots.
Mandee has light brown hair, a light blue sweater, brown boots, and a green skirt with white polka dots.
Fiona is voiced by Alex Ryan, Miguel is voiced by Tonatiuh Elizarraraz, Jackie is voiced by Romi Dames, and Mandee is voiced by Ariel Fournier.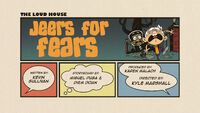 "Jeers for Fears" is the one-hundred-thirty-eighth episode of The Loud House. It premiered in the United States on October 11, 2018. It was written by Kevin Sullivan, directed by Kyle Marshall, and storyboarded by Miguel Puga and Diem Doan.
In this episode, Lincoln and Clyde are pressured by Chandler and his goons into going to the Royal Woods House of Terror when they attempt to deny being complete chickens. Realizing the mess they got themselves into, Lincoln and Clyde attempt to overcome their fears with the sisters' help, but the task proves to be easier said than done, as Lincoln and Clyde are scared of everything that startles them.
Fun fact: This episode shares a similar premise to the SpongeBob SquarePants episode "Roller Cowards", as both episodes involve the main characters conquering their fears of riding a ride they perceive as scary.