ABOUT THE SHOW
The Loud House follows the daily adventures of Lincoln Loud, an eleven-year-old boy with ten sisters. In each episode, Lincoln must find a new way to solve the problems that face his huge household. The series was created by animation veteran Chris Savino and currently airs on Nickelodeon.

POLICIES

POLL #1
Which recent premiere did you like most?
POLL #2
Coming February 18
What would you rank "Cooked!"?
WELCOME TO THE LOUD HOUSE ENCYCLOPEDIA!
This is an online encyclopedia for The Loud House that anyone is free to edit. Please note that this site may contain spoilers if you are not caught up with all of the series' currently released content.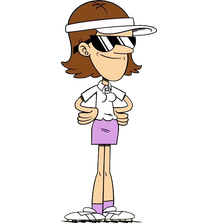 Coach Hutch is the golf coach of Royal Woods High School. She first appeared in "Driving Ambition".
Coach Hutch is a slender woman with long light-brown hair. She wears a while golf visor, black sunglasses, white pearl earrings, a white collared short-sleeved shirt, a lavender skirt, lavender ankle high socks, and white golf shoes.
Coach Hutch is voiced by Jane Lynch, most famous as the character of Sue Sylvester from the musical comedy-drama, Glee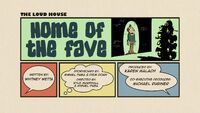 "Home of the Fave" is the one-hundred-forty-third episode of The Loud House. It premiered in the United States on February 6, 2018. It was written by Whitney Wetta, directed by Kyle Marshall and Miguel Puga, and storyboarded by Miguel Puga and Diem Doan.
In this episode, Luan and Lola tag along with Lynn Sr. on a trip to the grocery store. Throughout the trip, Luan and Lynn Sr. play around by constantly telling jokes, and when Lynn Sr. sees Lola looking annoyed by their antics, he begins to fear that he might be playing favorites with Luan. To make up for this mistake, he decides to spend as much time with Lola as possible, and before long, everyone else.
Fun fact: This episode marks Miguel Puga's directorial debut in the show, if one does not count the Israeli-exclusive short "Clyde and His Dads".