Doctor Strange in The Multiverse o Madness - The Loop
Play Sound
Got kicked out, The Price of Admission?
This article contains information about an episode banned in every country due to being paired with "One Flu Over the Loud House", and therefore will be unavailable to any user from these localities, with the exception of this specific article.
"The Price of Admission" is the forty-ninth episode of the first season of The Loud House.
Plot
Lincoln is unable to sleep after watching a scary movie, so he stays awake all night.
Synopsis
Lincoln is showing his parents a trailer for a new horror movie called The Harvester, where he tries to convince them to let him see it. Mom tells him that the movie is too scary, and refuses to let him see it.
That night at the cinema, Lincoln accompanies Clyde to see the movie Blarney: The Luck of the Cretaceous, but instead of seeing that movie, Lincoln enters to the theater where The Harvester is being shown. Approximately ninety-seven minutes later, the movie ends and everybody exits without fear of seeing the film, except Lincoln who has become traumatized. He returns home with Clyde and tells him that his parents can't know that he disobeyed them and saw the movie. When he comes home, his parents are decorating the house for Halloween. His parents then send him to find some pumpkins that are supposedly in different dark and desolate places of the house.
When it's time for everybody to go to sleep, Lincoln is the only one who can't sleep, as he's too afraid to do it. So he stays awake all night, but not before doing some activities to spend time with his sisters, which include:
The next morning, Lincoln is glad that he survived the entire night without any sleep, but then Mom tells him that she and Dad have talked, and they both agree that he's mature enough to see The Harvester, so they decide to go with him to watch it, much to his and Dad's horror.
When they are at the cinema, Lincoln can't hide it anymore and finally tells his parents the truth that he already saw the movie, disobeying them in the process and he was too scared to sleep. His parents forgive him, telling that being awake all night was punishment enough for him. After that, Lincoln begs them to see the Blarney movie, which they accept.
Cast
Lana, Rusty Spokes, Papa Wheelie, Flat Tire, Agnes Johnson, Chad, and T-Bone have no lines in this episode. Although being casted in the credits, Lynn has no lines in this episode, but she can be heard snoring when she's playing basketball with Lincoln and she was tired.
Physical distribution
This episode is available on the "It Gets Louder" and "The Complete First Season" DVDs.
Trivia
References
Errors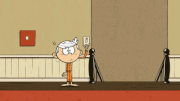 Clip