Jurassic World: Dominion Dominates Fandom Wikis - The Loop
Play Sound
He's got, a... cool hat, a red one. And his name is Rib... bon. Yeah, Ribbon the Frog.
This page contains information on a subject that does not yet have an official name. Once an official name is given to the subject or character, this template can be removed.
"There's nothing here!"

This article is a

stub

. You can help The Loud House Encyclopedia by

expanding it

.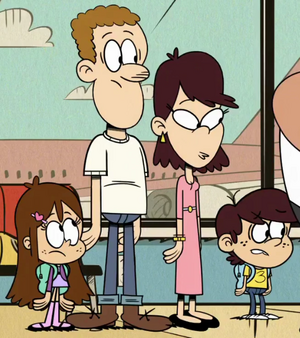 This unnamed family is composed of four unnamed people.
Woman
Appearance
She is an Asian woman with a slender body, light skin, arm-length dark brown hair and two pairs of eyelashes. She wears golden triangular earrings, golden bracelets, a long pink dress and black shoes.
Gallery
Man
Appearance
He is a Caucasian tall and slender man with short dirty blond hair and eyebags.
Girl
This unnamed girl is a minor character in The Loud House, who first appeared in "The Green House".
Biography
She first appears in "The Green House", where she was mad at Lincoln for his lack of effort in reducing his carbon footprint. By the end of the episode, she applauded him for stepping up his green game.
Later in "Lincoln Loud: Girl Guru", she was selling cookies from her family's recipe for business. Later she is then seen putting an empty plastic bottle on a trash can and walks off.
In "Dance, Dance Resolution", she does not notice Liam, Zach, and Rusty.
In "Making the Grade", she becomes irritated at Lisa's bothersome attitude.
In "Frog Wild", she is shown to excited about dissecting and at the end of the episode is shown to be looking the frog habitat.
In "Shell Shock", she is shown in class when Agnes Johnson presents the class with egg baby challenge.
In "Out of the Picture", she is seen sitting with Joy.
In "Legends", she is seen at the airport.
In "Pasture Bedtime" she is seen at Girl Jordan's pool party.
In Stall Monitor, she and Girl Jordan were with their Mom in Royal Woods Elementary School for the parent teacher conference.
In "Community Disservice", she is seen attending Lana and Lola's class. She is seen doing that again, alongside Joy in "Sister Act".
In "The Boss Maybe", she was seen in Reininger's.
In "No Bus No Fuss", she is seen with several other students waiting for the bus.
In "Dine and Bash", she along with her family are among customers of Lynn's Table.
Appearance
She is a small preteen girl, who has freckles on her cheeks, and long brown hair with a heart shaped clip. She also wears a light purple dress, with a violet coat, pink socks, and black Mary Jane shoes.
Trivia
So far, the only episode where she speaks is her debut episode, "The Green House".
Gallery
GIFs
Panormas
Boy
This unnamed boy is a minor character in The Loud House.
Appearance
He's a small slender boy with round face, dark brown short hair, freckles, eyebags and backteeth. He wears yellow t-shirt, blue jeans and white shoes.
Sources