My favorite of the parents, is
Rita
because she is mature and she knows how to manage the problems.
My favorite sister is Luan, because even if she can be a monster, she can be a very sweet sister, like she was with Lucy on "Head Poet's Anxiety". I love her jokes because they are super funny.
The second is Leni, because of her big heart, her dumb moments and because of her episodes.
The hardest badge to win was the "Caffeinated", 100 EDITS, when I was at 86 edits I was going to give up, but then I said to myself (I am very close to win), honestly it was one of the HARDEST THINGS that I ever did.
I earned my first Lucky Loud Edit, in May 12nd, 2017.
The second on July 2, 2017 22:39 (in my country) or July 3, 3:39 (wiki time)
The 3rd in July 21st, and the fourth on February 17, 2018 12:09 (My country) 17:09 (wiki time)
The fourth on July 23, 2019. Don't remember the hour.
Favorite Episodes (Has to be updated)
Room With a Feud: Men, this episode was PERFECT, something which I like from the show is the sisters sharing rooms, I loved the compatibility test, the sisters having a good time with the new roommate. My favorite relationship is the Leni and Luan, and they were very closer in this episode. Honestly, my favorite part was the Leni and Lynn scene. It was totally true, Luan and Lucy are perfect roommates. This episode didn't have any boring moment. Another 10/10 episode.
Head Poet's Anxiety: No words to describe this masterpiece, funny, nice plot. This episode is almost the perfection. Finally we learn what Luan makes off-screen, and for a plus, we learn Luan's history, since she had eight. Maybe this episode has the most emotional scene of Season 3 so far, which is the part of Luan making Lucy feel better, and the final poem. 10/10
No Laughing Matter: I waited 3 months, and it was amazing, Luan is my favorite sister and this episode is her best performance. I felt bad for Luan, when the siblings said that she was annoying, but al least they felt sorry about what they did.
Lynner Takes All: I waited 2 months, really I was so excited, and when I can watch the episode, it was fantastic, it was exactly as I though, AMAZING. Leni, she was very funny and dumb. Lynn learned the lesson. Very Nice Episode.
Sitting Bull: The perfect interaction of the older sisters I was waiting for. Loved how the sisters were talking about their job, their plans, and how they are not evil persons, as they felt bad of what they did.
Funny Business

: The first time that I saw this segment, I was so happy, I like the way how Loud sisters stole Luan's parties and the fight between Luan and Lincoln. The beginning is pretty boring, but then it becomes interesting because Lincoln was going to ruin Funny Business reputation, but his sister helped him, The final part was amazing. I love the relationship between the siblings who are the focus in this episode.

This episode used to be my favorite, but then ROOM WITH A FEUD came.

Attention Deficit: This segment is amazing and epic for me, sadly I didn't see this episode on its airdate, but when I could watch,

I was so impressed. I love this. Its very funny, specially the part when Lincoln arrives to the house and the sisters was making a disaster, with Luan chasing to Lola, Lisa's experiment exploting. Due the production. 10/10

The Crying Dame

: I loved how the siblings make those things to make Lily happy, the song get stucked in my head.

Fool's Paradise: I waited this episode for months, and when I can watch, it was amazing. There was only 1 scene which I dislike. 9,5/10.
Back In Black

: Lucy was on love, with a real guy, ohh, and because this episode create a theory about Lucy's real color hair.

Spell It Out: I am identified with this episode, because sometimes I keep silence or I my voice is overshadowed by other voices, so I like this episode.
April Fools Rules: I like all segments focusing on Luan, and this is a good one, how a sister that usually is a calm sister, transform into a monster and how the sisters helped each other.
Roughin' It: This episode is spectacular, this episode makes stronger the relationship between Lincoln and his sisters.

 

Intern for the Worse

: My favorite part, is the begging, then the fight, it was the kind of fights which I have with my classmates, and Finally, the 

antagonist

 have a bad ending, good episode.

Out of the Picture

: This episode makes me love Lily in other level, and like in #8 Lola's performance is awesome.

Brawl in the family: Leni, Luna and Luan's epic return in Season 2. Very funny episode.
Not a Loud: I really liked this episode, finally an episode that put and STOP on that theory, I liked because the scenes with the older sisters were emotional. And finally because it is different from WWE, because in that, the older sisters were absent, but in this masterpiece, the younger sisters are absent.
White Hare: I had big expectatives about this episode, I mean, it was written by the creator of the show, so it must be good, and it was, so cool watch the 25 original sisters, and I loved it.
The Waiting Game: In youtube, people say that this episode is terrible, but I love this episode, Chandler is a perfect antagonist, and the ending is the best part.
Come Sale Away: I rewatched this episode, and sis very VERY funny, specially if you watch in the Latin American Dub, you can hear Lily talking and the Unnamed Woman voice is the funniest thing from the whole episode. Maybe I have to watch this episode in english.
One of the Boys: Lars appears, is Lars' debut, so I have to like this episode.
Ties that bind: This episode has a great moral, and a nice plot, and the organization of Loud siblings, I like the part when Lola and Lana were fighting to go to the bathroom.
Space Invader

: This was my favorite segment, but then Undie Pressure arrived.

Undie Pressure

: I like the way in which the Loud sisters got eliminated, specially Leni, Luna and Lana, also like elimination programas like total drama and this segment is the perfect combination. This was my favorite segment, but then FUNNY BUSINESS came.
Honorable mentions:
These are episodes that I like and enjoy, but no too much as the others.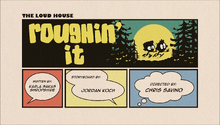 Best Entire Episodes
Least Favorite Episodes
Baby Steps: What can I say, I really disliked this episode since its premiere.

The Green House

: This episode is just harsh, Lincoln is extremly sellfish and hypocrite. Why I am saying this? In other episodes, he is nice with his sisters, and usually he tells them the truth, here, he lied them, at the point to make them live in awful conditions, but at least he received what he deserved.

Along Came a Sister: I HATE this episode, is focusing on Leni (my 2nd favorite sister), but she is a nice person, but in this episode what she gets? The hate of her sisters, Lola and Lana were so evil, usually I like them, but in this episode, I just can't stand with them. She was the hero of the episode, but, at the end, she receives an end like if she was the villain of the show. Horrendous.
Snow Bored: This episode's main problem, Lisa.
Sleuth or Consequences: I just don't like this episode.
Fool Me Twice: A family torture episode, for every single member of the Loud family.
A Novel Idea: The part of Lincoln trying to get the book back was so unrealistic.
For Bros About to Rock/The Loudest Yard: Two words: Background Appearances.
DISHonorable Mentions:
Butterfly Effect: Everything was imagination??
Left in the Dark: I think that I've watched this episode 20 times.
Worst Entire Episodes
Favorite quotes
Leni: O-M-Gosh, you guys! (Brawl in the Family)
Luan: Why are clowns never bored? Cause were good at keeping occu-​pied​. (Funny Business)
"Lincoln, stop messing around with my whoopee cushions, I mean, I know they're gas" (The Price of Admission)
Lisa: "Por el gato de Schrödinger" In spanish. (Along Came a Sister)
Lola: "Mom, Lana is drinking from the carton, and now she is COUGHING ON Meeeee". (One Flu Over the Loud House)
Lucy: "Hey. I'm conducting a practice funeral and I need a corpse. How do you feel about enclosed spaces?" (Overnight Success)
Lori: "Literalmente estas bromeando?". Is is spanish too. (Come Sale Away)
Luna: "Really dude". (Lock 'N' Loud)
Lana: "Finally!". (Lock 'N' Loud)
Luan: "Well get luck with that". (No Laughing Matter)
Lana: "I'd give it a minut before going in there. PHEW" (Not a Loud)
My favorite series/Edits
The Loud House
Miraculous: Ladybug
Harvey Beaks

Star vs. the Forces of Evil

The Amazing World of Gumball

Steven Universe
Unikitty!
The Simpsons
Stuck in the Middle
SpongeBob
Edits of

Aleji2404

on The Loud House Wiki
Total:
3,574
Article:
1,516
Talk:
102
Board Thread:
631
User:
209
User talk:
0
Thread:
297
Project:
0
File:
355
File talk:
0
Template:
0
Template talk:
0
Category:
0
Category talk:
0
Forum:
0
User blog:
10
User blog comment:
247
Important edits
Cute Gallery
FanBoxes
Community content is available under
CC-BY-SA
unless otherwise noted.