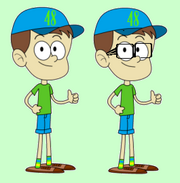 The Loud House Panorama Museum:Click here
The Casagrandes Panorama Museum: Click here
There's only one rule on this wiki: stay out of my user page!
This page should fall under the wiki's user page policy and should only be edited by Kylefan92.
20 Favorite characters
Top 12 Loud House Favorite Episodes
12. No Show (Favorite part: Adios Ana, Adios) 10/10
11. Pimple Plan (Favorite part: Unicorn Luan) 10/10
10. Boss Maybe (Favorite part: Firefighter Leni Loud) 10/10
9. April Fools Rules (Favorite part: Ronnie Anne hits Luan with a pie) 8/10
8. No Guts, No Glori (Favorite part: Lori's army outfit (minus the whistle)) 9/10
7. Pulp Friction (Favorite part: 11 of Hearts) 9/10
6. Left in the Dark (Favorite part: Glow in the Dark Luan) 10/10
5. For Bros. About to Rock (Favorite part: Loud Crew cameos) 9/10
4. Pimple Plan (Favorite part: Unicorn Luan) 10/10
3. HomeSpun (Favorite part: Ice Skating, Western and Pioneer scenes) 9.5/10
2. Snow Bored (Favorite part: part: Luan snow trick) 9.5/10
1. Driving Miss Hazy (Most favorite part: Driving Suit Leni) 10/10 
Top 6 Casagrandes Favorite Episodes
6. Uptown Funk
5. Fails from the Crypt
4. Vacation Daze
3. V.I.P.eeved
2. Miss Step
1. Trend Game
Community content is available under
CC-BY-SA
unless otherwise noted.