Video being played:
Fallout 4 - What Makes You S.P.E.C.I.A.L. (Featuring Vault Boy As Your Guide)
Hello, <insert name here>. My codename here is TheAwesomeGamerDude, and I purely freaking love The Loud House when I first saw it, despite some of the bad episodes that I have seen. I want to help this awesome wiki out and make some blogs about TLH. I sure hope you enjoy it here as much as I do.
Favorite TV shows to Watch:
Adventure Time
TAWOG (The Amazing World of Gumball)
Loud House (Obviously)
The Casagrandes
Star vs the Forces of Evil
Gravity Falls
Phineas and Ferb
Catscratch
Regular Show
Invader Zim
South Park
Family Guy (Mostly the Old Seasons)
Drake and Josh
Avatar: The Last Airbender, and The Legend of Kora
SpongeBob (Mostly the old seasons)
Steven Universe
Tom and Jerry
Danny Phantom
My Life as a Teenage Robot
DuckTales Reboot
Milo Murphy's Law
Harvey Beaks
Looney Toons
Favorite Sisters (from best to worst):
Luna (She Loud-mazing)
Leni (She a true cared sister)
Lucy (For being emo, she awesome)
Lana (The nicer of the two twins)
Lily (She's adorable)
Luan (I like some of her puns and pranks)
Lori (Bossy, but still good)
Lola (Bratty, but still filled with kindness)
Lynn (Hotheaded, but active sister)
Lisa (Boring, but have some funny moments of herself)
Why I like Loud House:
I like this show because not only this show saves the reputation of Nickelodeon, but this show have everything that you can imagine from how amazing the characters are, to how the story goes. I also wish Chris Savino, the creator of this show, takes some advice from this wiki to make The Loud House even more AWESOME than how it was. This show will be the NEW Number 1 show on Nickelodeon. *Depending on the episodes.
My Stuff (Based on Episodes):
-
Project Loud House (Epilogue)
Complete
[1]
Undies Pressure (Rewritten Ending)
Complete
[2]
A Fair To Remember (Epilogue/Extend Ending)
Complete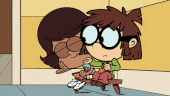 |

This user loves Lisa!

|
| | |
| --- | --- |
| | This user is a fan of Luan. |
| | |
| --- | --- |
| | This user is a fan of Lola. |
Community content is available under
CC-BY-SA
unless otherwise noted.