Welcome to another LNN, the sixth issue of this so called series.
This one came late, we apologize for that.
And yes, we have yet again a new logo, hopefully we can keep using this one for a while...
News
Well, let's get to the news!
Maybe you have noticed that we have a new feature in our wiki, the Discussions! This feature shall replace forums in the future, the forums are still available, but not for long...
Today, RoniX2D asked some users in this wiki about their first thoughts of this recently added feature.
Here are the responses of some of the users:
FreeSpirit98 - "My first impression with the new Discussions feature is that I love it. The interface has a similar appearance of your normal everyday social media interface like Facebook and Twitter. It really works well in both website and mobile versions when testing it out. There are really great new features that Discussions has come to offer like a separate notifications system from the message wall threads and forum threads, upvoting a post and the ability to report a post to an Admin or Discussion Mod. Using my Discussion Mod rights, they are beneficial to me as they use the same kind of tools used in Forums, and the new tools like checking reports and who's way active. I love using Discussions when we can have actual discussions to either the episodes or the characters of the show and I believe they are a best way to discuss instead of commenting in the articles. I will be sad to see Forums retire but Discussions will truly do the best job for users in the wiki."
Inconsistent - "I think it's a great system that allows more users to put their two cents whether it be a small point or something in-depth. Unlike the Forums that had many winding roads in the form of boards, Discussions is all centralized and you can see all the topics easily and leave your thoughts on anything that interests you. I think this system will invigorate more talk about all aspects of the show, which I is wonderful. It still could be improved in many ways though, such as adding a reply system and some sort of template system for promotion/demotion threads. I just hope we'll see features like that in the near future."
Vossie - "I definitely like how you can sort posts by specific categories, it's a nice touch and it helps keep things more organized."

RoniX2D - "Do you think it can replace forums?"

"Yes. Forums tended to be really buggy for me like my replies would not always go through. The organization of the posts helps with navigation and I definitely like discussions count separately from your regular edits. Small thing, but small things can be efficient. I think back in the day, forum posts were more difficult to find if I recall correctly; not sure never really used them much."
Veenster7 - "I think the new Discussions feature is a nice addition to the wiki. It's a different way to engage with the community. It helps keep some things that would spam wiki activity (like talking about a new episode) outside, because unlike the Forum, Discussions do not appear in the recent changes or activity. The categories are also a neat way to organize the topics, and the feature to report content is quick and easy to use. Discussions have no comment limit and don't lag after several hundred replies, and images added to Discussions are not added to the wiki's file space. I also like how Discussion posts/comments count separately from wiki edits.
Right now, my only major concern is that it doesn't support wikitext. Hopefully it will be added before the Forum is inevitably replaced."
I want to thank all four users for taking their time to answer these questions.
User of the Month
Here are the results of the last UotM:
1st - DandyAndy1989 with 10 votes.
2nd - American Titan with 3 votes.
3rd - WJ with 1 vote.
And now, let's see the nominations of this month's users of the month, this month will be dedicated to our chat mods, meaning that this will be a "Chat mod of the Month".
The chat mods are:
Which of these users should be crowned as chat mod of the month?
Is there a user that you would like to see in the next UotM?
Suggest the user in the comments below!
---
And now to MuppetSpot's Fanfiction... review?
MuppetSpot's Fanfiction review
This time around, MuppetSpot made a video review about a Fanfiction called "Twisted Night" by AndrewBrauer.
---
And now, TMNT1987Dude, with his Character's Corner!
TMNT1987Dude's Character's Corner
Hello everyone, and welcome back to Character's Corner. For the third installment, we will be looking at a character who I've always been interested in, and very recently, he got an episode where he played a big part. That's right! I will be talking about Chunk. This is a character who I was sad didn't get featured once all throughout the show's second season, and not only did he get a bigger role, and not just a cameo this time, but we learn more about him.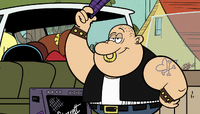 Chunk was a character who was always interesting to me, and I wanted to know more about him. In his first appearance, way back in Season 1's Project Loud House, he only has a brief cameo, and doesn't even speak. It's not until Overnight Success that he finally talks, and I forgot that John DiMaggio can do a good British accent. However, he only has a very brief appearance, and only has about two lines. His next appearance is in Chore and Peace, and afterwards he appears in House Music. I mention both of these together because all he does in both appearances is a make a cameo appearance in one scene, and that's it. His last appearance for a while was in Roughin It, where he only appears during a flashback. Even though he speaks in all of his Season 1 appearances after Project Loud House, all he ever did was make brief appearances, only have a couple of lines, and we never know much about him, aside from the fact that he's Luna's roadie. Heck! In two of his appearances (Overnight Success, Roughin It), he only appears in flashbacks. This is why I was upset that he never appeared once in Season 2, as I was interested in learning more about him. Between his last appearance in Roughin It, and his most recent appearance, we did get to hear him in one of Listen Out Loud podcasts, but that was just his voice, and it was mostly him helping Luna with her podcast.
He most recently appeared in the Season 3 episode, Roadie to Nowhere, and not only do we get to see more of him, but we also learn more about his past, and learn his real name. His real name is Chester Monk, and he went to the same high school as Luna when he moved from England. Luna's music teacher, Mrs. Vaporciyan was also Chunk's music teacher, and this is how Luna learns more about Chunk's past, as well as us, the audience. Luna starts to believe that her dreams of being a rock star may be unrealistic, as she believes that Chunk didn't make it in the business, as she believes he lives in his van, and is just her roadie, due to not cutting it as a rock star. However, we later learn that Luna's fears are untrue, as Chunk is actually in a band called Chunk & the Pieces. He did get to live out his dream, even if he's not a big name musician, and he does have an actual home, and doesn't live in is van as Luna originally thought. This gives Luna her confidence back, and she participates in her school's, Royal Rumble. This was such a great insight into Chunk's character as we learn so much about him in this one episode. Strange how it took until the third season to know all of this.
I really hope the series continues to show us more of Chunk, as I find him to be a cool secondary character, and not only does his presence make an episode he's in cool, but it also helps Luna as well, as two of the episodes he was in were great Luna episodes. Roadie to Nowhere was such a great episode, and Chunk's presence really helped with that. Not only that, but he also delivers a good message about not giving up on what you love most, and even if you can't make it into the big leagues, you can still find happiness doing what you love in another way, which was a great lesson for children. That's it fore this edition of Character's Corner, and I'll see you on the next one. Later folks.
That's it for this issue of LNN, we'll see you folks next time.
Have a nice day!
v

•

e

•

d
Loud News Network
Community content is available under
CC-BY-SA
unless otherwise noted.